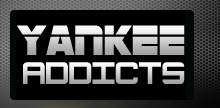 March 5, 2012 · Michael Moraitis · Jump to comments
Article Source: Bleacher Report - New York Yankees
In his first start of spring training and as a member of the New York Yankees, Michael Pineda looked very strong over the two scoreless innings of work he put in against the Philadelphia Phillies today.
Other than a lead off, seeing-eye single up the middle by Jimmy Rollins, Pineda was perfect. After Rollins' single, Pineda forced Placido Polanco to ground out, which would have been a double play if not for a questionable call at second.
But that didn't matter, as Pineda would go on to strike out the next two hitters. Shane Victorino struck out swinging on a slider in the dirt, and Jim Thome whiffed on a fastball.
Both strikeouts were a good preview of how well Pineda throws his two best pitches.
In the second inning, Pineda retired Hunter Pence, Ty Wigginton and top prospect Domonic Brown all in order for a 1-2-3 inning. Brown might have hit the hardest ball all day, but other than that, the Philly bats didn't get great contact off the young right-hander.
Pineda showed off his newest pitch, the changeup, to a few of Philadelphia's left-handed hitters. Although it's coming along, there is still much work to be done. However, there's no reason to believe the pitch won't be ready by April.
It's tough to comment on his velocity because there were no radar gun readings, but Pineda's fastball is electric and he clearly has a nasty slider that will make hitters chase it in the dirt.
This was a great first showing for the second-year man. I know it's only his first start of spring training, but you have to be encouraged by the success Pineda had against a lineup of solid, professional hitters.
Read more New York Yankees news on BleacherReport.com