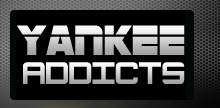 February 24, 2012 · Michael Moraitis · Jump to comments
Article Source: Bleacher Report - New York Yankees
It's easy to forget the type of season Ivan Nova had for the New York Yankees in 2011 with all the hype of two new starters, Michael Pineda and Hiroki Kuroda, bolstering the Bombers rotation. But has it gotten to the point where people are overlooking Nova as the Yanks No. 2 starter?
By all accounts, there was no rookie, or player for that matter, who was more important to their team than Nova was to the Yankees in 2011. With CC Sabathia and a rotation full of problems, Nova emerged as one of the best young starters in the MLB.
I could even make the argument that Nova was the Yanks' most consistent pitcher during certain stretches of the regular season. He had a couple of tough decisions last September, but in all, Nova went 2-0 with a 2.67 ERA in the most important month of the season.
In August, Nova elevated his game to Sabathia's level and outpitched the Bombers ace.
Sabathia: 3-2, 4.68 ERA.
Nova: 5-0, 3.82 ERA.
Kuroda proved to be a solid pitcher for the Los Angeles Dodgers and improved his numbers each season in the MLB. But he still brings doubt coming from one of the weakest offensive divisions in the majors.
The NL West had three teams ranked 21st or worse in runs scored last season while the AL East had every team in the top 15 in the same category. Like it or not, it's a big adjustment for any pitcher.
Pineda is more of a move for the future and it's become clear he needs more work on his third pitch in order to have real success. An All-Star appearance would look great for any rookie but Pineda had plenty of trouble in the second half of the season.
Before All-Star break: 8-6, 3.03 ERA.
After All-Star break: 1-4, 5.12 ERA.
Also, there's a stark contrast to Pineda's numbers at home as opposed to on-the-road. He pitched far better in Safeco Field, a pitcher's park, but didn't do so hot in opposing parks. Yankee Stadium certainly isn't friendly to pitchers and Pineda might discover that fact quickly.
Home: 5-4, 2.92 ERA.
Away: 4-6, 4.40 ERA.
There's no telling how any player will deal with the pressure of pitching in the Bronx and both Kuroda and Pineda get no more time to figure out their problems than any other player who's worn the pinstripes.
All that being said, Nova has already had a 16-win season for New York all the while making it look like pressure isn't a problem for the young righty. He's already won a playoff game in Yankee Stadium and been established as the Yanks' second-best pitcher.
As far as I'm concerned: Nova is the Bombers No. 2 starter because of results and it's his job to lose coming into spring.
Read more New York Yankees news on BleacherReport.com