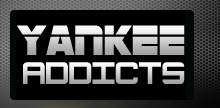 March 6, 2012 · Michael Moraitis · Jump to comments
Article Source: Bleacher Report - New York Yankees
You never want to say a guy has a lack of velocity after the first start of spring training, but Michael Pineda has been known to throw much harder than what we saw in his debut with the New York Yankees.
According to a tweet from Ken Rosenthal of Fox Sports, scouts were slightly concerned over Pineda's declined velocity from his first start of the Spring.
Scouts yesterday had #Yankees' Pineda at 88-91 – "and there was some effort to get to 91," one said. Pineda averaged 94.7 last year. …. Re: Previous tweet on Pineda. Yes it's early. But scouts were taken aback, asking each other if readings were accurate.
Keith Law of ESPN Insider also noted that the same time last year, Pineda was averaging 93-96 and that the lower velocity was "pretty light even for a pitcher's first outing."
But Law also believes two to three more starts are needed before anyone can worry.
A lack of velocity leading to further problems isn't something new to the Yankees. Phil Hughes started off the same way last season before having a terrible year filled with arm issues.
And like Pineda in 2012, Hughes came into spring training overweight in 2011, so there are parallels between the two.
It is extremely early to be concerned over something like this, but it's something that should continue to be monitored. Pineda still looked strong yesterday and was quite effective against some of the Philadelphia Philles' better hitters.
We'll see if this continues and what (if any) effect it will have on Pineda's season moving forward.
Until then, I'll have my eye on that radar gun.
Read more New York Yankees news on BleacherReport.com