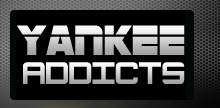 April 23, 2010 · Bronx Baseball Daily · Jump to comments
Article Source: Bleacher Report - New York Yankees
Look for New York Yankees first baseman Mark Teixeira to break out his slump (I won't ever stop saying that until he does).
If the last series (won by the Yankees, 2-1, April 13-15) with the Los Angeles Angels of Anaheim is any indication of how the Yankees' latest three-game series this weekend with the Halos will go, then Yankee fans have little to be worried about.
Tonight's marquee match-up between AJ Burnett and Ervin Santana , who is coming off a complete game against the Blue Jays, will not be a pitcher's duel, as neither pitcher has had much success against the opposition during their career. Look for the Yankees to have the edge, as they shelled Santana last week.
Andy Pettitte dominated the Angels, specifically Yankee-turned-Angel Hideki Matsui , and out-dueled Santana to earn the win. Look for Pettitte to continue his dominance on the road, and get his third win of the year as he faces off against Joel Pineiro in the series' second game Saturday.
Pineiro is having a very good year, and he beat the Yankees during the teams' first go-around last weekend in New York. But, he was also facing Javier Vazquez , who clearly was having trouble adjusting to his new environment.
Vazquez has a solid start under his belt, and looks a lot more comfortable on the mound. Plus being 3,000 miles away from hyper-critical Yankee fans should help to ease his nerves for his fourth start of the year.
The Yankees offense is coming in as hot as it has been all season. Look for Teixeira , who still is way south of the Mendoza Line, to keep trying to dig himself out of the cellar. A good indication of how the slugger is doing is to keep track of his strikeouts.
In his first 10 games he had 12 strikeouts; in the past five games he has struck out only twice. Look for his dismal .125 batting average to rise, and certainly don't expect Nick Johnson to be filling in for the all-star first basemen during this series.
Probable Starters:
RHP AJ Burnett (2-0, 2.37) vs. RHP Ervin Santana (2-0, 4.35)
LHP Andy Pettitte (2-0, 1.35) vs. RHP Joel Pineiro (2-1, 1.77)
RHP Javier Vazquez (1-2, 8.27) vs. RHP Scott Kazmir (1-1, 7.45)
Notes:
Scott Kazmir was known as a Yankee killer during his days with Tampa Bay, but he got shelled by the Bombers the last time out, giving up six earned runs in only four innings of work.
Lefties have batted .091 against Pettitte this season, while righties have hit .271 against the veteran starter.
This will be the second series against the Angels, and the Yankees still have not faced their number one starter Jered Weaver .
Derek Jeter has had a great deal of success against Santana

, 12-for-27 with three home runs,

but almost none at all against Weaver,

2-for-17 with two RBI

,

and Kazmir, 6-39 with 12 strikeouts.
Yankees Keys to the Series:
I know I sound like a broken record, and the Yankees seem to be doing just fine without him, but Teixeira needs to get it going if the Yankees are going to make it two straight series from the Angels.
Get to Pineiro quickly and force their bullpen to carry a heavy load in the second game.
All of these games could be very close contests. Mariano Rivera will need to continue his dominance in order for the Yankees to come away with a series win.
Expected Outcome:
This series could go either way, but look for the Yankees to continue their winning ways, taking two of three from the Angels again.
The series hinges on Vazquez and Santana. If Vazquez is able to control himself and throw six solid innings, then the Yankees will likely score enough runs off of a shaky Kazmir to earn the win.
Santana, coming off a great start, will most likely ride that momentum, and force the Yankees lineup to try and score enough runs to keep with the Halo's offense, which has had a lot of success against Burnett. The match-up between Pettitte and Pineiro is a tossup, but look for Andy's ability to perform under pressure as the difference maker in this series.
Most Commented Posts
Read more New York Yankees news on BleacherReport.com