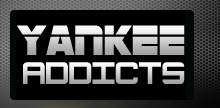 November 24, 2010 · Adam Rosen · Jump to comments
Article Source: Bleacher Report - New York Yankees
Ready. Aim. Fire.
Contract negotiations between Derek Jeter and the Yankees are well underway with both sides standing pat.
The Yankees are not willing to offer Jeter a fourth year, and the Jeter camp is insulted with the Yankees initial offer of a three-year, $45 million deal.
We all know Jeter is going to be a Yankee next season, and for the next couple of years.
We all know he will be the starting shortstop when the season begins, and we all know Jeter will soon be nearing the end of the line in what will undoubtedly be a Hall of Fame career.
The battle lines have been drawn and the Yankees are not backing down.
Jeter enters this war after compiling career lows in a few offensive categories and, for the first time in his career, he does not have the upper hand.
As Jeter seeks the contract he desires, don't expect the Yankees to change their stance.
At the end of the day, Jeter will be a Yankee, but unfortunately for Jeter, it's going to be under the terms of the Yankees front office.