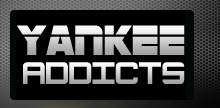 News published by
November 24, 2010
No one on this list needs an introduction.  If you follow the Yankees, or simply, have been following baseball over it's magnificent history, the names on this list speak for themselves.  Although most ...
November 24, 2010
Ready. Aim. Fire. Contract negotiations between Derek Jeter and the Yankees are well underway with both sides standing pat. The Yankees are not willing to offer Jeter a fourth year, and ...
November 22, 2010
While 2009 ended with a World Series championship, 2010 ended in disappointment. While the Texas Rangers celebrated in front of their home crowd and were heading to their first World ...
September 21, 2010
Doesn't the photograph of A.J. Burnett say it all? I think it does (Yankee fans, including myself are used to it).  Therefore, sit back, relax and enjoy, as you read ...
July 26, 2010
With less than a week to go before the 2010 trade deadline, the baseball rumor-mill is heating up. Teams such as the Houston Astros and Cleveland Indians will look ...
July 20, 2010
Tonight in the Bronx, history can be made. Currently sitting at 598 career home runs, Alex Rodriguez is only two home runs away from becoming just the seventh member of the ...
July 19, 2010
From the off-season acquisition of Paul O'Neil in 1992, to the blockbuster trade that brought Alex Rodriguez from the Texas Rangers to the Bronx, George Steinbrenner has made a handful ...
July 13, 2010
This morning, Major League Baseball lost a legend. Following the death of Yankees owner George Steinbrenner, everyone is going to have their own memories of the Boss. Whether it was when he ...
July 7, 2010
Twenty-five years ago, Dave Parker was the first Home Run Derby champion, belting six home runs to defeat a field that included Jim Rice and future Hall of Famers Eddie ...
July 6, 2010
The trade deadline can be a defining moment during the season. The trade deadline allows teams that buy to transform themselves from a contender into World Series champions, while ...