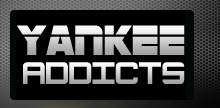 October 1, 2010 · Dan Hanzus · Jump to comments
Article Source: Bleacher Report - New York Yankees
Full disclosure: I wasn't really feeling the playoff-clinching celebration on Tuesday night.
I know, I know. It's a long season. Making the postseason is an achievement, and the players deserve to blow off some steam. I get that. But there's a part of me—okay, all of me—that was rubbed the wrong way by how satisfied the team seemed with itself.
Please understand that I, more than any man or woman on earth, love watching Kim Jones get doused by champagne and beer. It may be the main reason I follow the Yankees. Like Kim, it never gets old.
I also love clubhouse celebration shots that beg for perverse photoshopping (see: Chamberlain, Joba). I even get a kick out of worthless MLB-sanctioned schwag like the "PLAYOFFS" hats the players wore in the clubhouse.
My biggest problem is that the Yankees still have business to tend to before the playoffs start. Why celebrate like you have nothing left to achieve?
Here's how I'd rather have watched it play out:
Kim Jones: Derek, other teams around baseball have raucously celebrated clinching a playoff spot. Why not the Yankees?
Derek Jeter: We decided as a group that we'd celebrate in Boston when we clinched the division. Every spring, the first goal we set is to win the AL East and we haven't done that yet.
KJ: So what are you going to do with all these refreshing beers and ice cold bottles of champagne?
DJ: (Pauses for a beat)
(The whole team douses Kim with beer and champagne. She's totally into it.)
Annnnnd scene.
Anyway, I'm not sure it's clear to Joe Girardi, who may be too busy daydreaming about brick walls covered in ivy to even care, but winning the division can very well make or break this season.
This is a flawed team, but the Yankees are fortunate in that the other three teams left standing in the American League have weaknesses as well.
It's a wide open field to see who plays the Phillies in the World Series. Doesn't it make sense that with the Yanks, Rangers, Twins, and Rays all at about the same level, a deciding game at home could be the difference?
The good news is that Tampa Bay seems just as nonchalant about the whole situation. The Rays were shut down by Zack Greinke and the Royals on Thursday night, and have lost three of four this week. The Twins have also slumped, possibly allowing a golden opportunity to clinch home-field throughout the AL playoffs slip away.
The Yankees head into Fenway this weekend to face the Red Sox, who have lost three in a row and clearly are in "Let's see who can clean out their lockers the fastest on Sunday" mode.
Tampa Bay holds the head-to-head tiebreaker, so in the case of a tie the division goes to the Rays. Without CC Sabathia, asking for a sweep may be difficult, but if you can at least win of two of three, you put the pressure on the Rays to earn it.
There's no shame in going into the postseason as a wild card. But going in as a division winner gives you a better chance to win the World Series. Isn't that worth fighting for?
Dan Hanzus writes the Yankees blog River & Sunset and can be reached via e-mail at dhanzus@gmail.com. Follow Dan on Twitter @danhanzus.
Read more New York Yankees news on BleacherReport.com