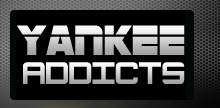 September 30, 2011 · Michael Moraitis · Jump to comments
Article Source: Bleacher Report - New York Yankees
There is nobody who will question the fact that Ivan Nova has proven to be a dependable starter for the New York Yankees in 2011. As a rookie, Nova has posted a 16-4 record, with an ERA of 3.70. The hype he has built for himself during the season gives him a unique opportunity.
You'd take Nova's numbers from any starter in your rotation, but when it comes from a rookie, it can make you downright giddy.
Now we all know that regular-season success doesn't mean you'll be successful in the playoffs. But then again, having a bad season doesn't mean you won't have a good postseason, just ask Scott Brosius.
In the playoffs, you can throw everything out the window from the regular season—it means absolutely nothing.
Ivan Nova is a rookie with a huge amount of pressure on his shoulders, something that might make most rookies crack. On top of that, being a starter for the New York Yankees is enough pressure in and of itself, let alone having the largest media in sports hounding you all season.
But through it all, Nova has handled himself very well. You haven't heard a single thing from him this entire season. No distractions or setbacks, just progress and success. Just looking at Nova's demeanor alone on a daily basis and you can say there is a certain something Nova has that keeps him calm in tight spots.
Nova has gotten himself into his fair share of problems on the mound during the season but has come away relatively unscathed.
God knows he'll need that ability if he'll have success in the postseason. Game 2 of the ALDS will be the biggest start of Nova's young career, on a stage he's never been before. There's no telling how any player will respond to the bright lights of the MLB Playoffs.
But one thing is for certain, if Nova can come through like I think many Yankees fans have faith that he will do, Nova will be instantly propelled to stardom. The MLB Playoffs are the biggest stage in baseball and just like in New York, if you can make it there, you'll make it anywhere.
With the spotlight of New York shining on him, Nova would be pushed into the conversation with some of the best pitchers in baseball.
That's how fast it can happen if Nova proves to be a "big-game pitcher."
If Nova can answer the call, he'd be the most-watched Yankee star since that guy who plays short stop for the Bombers. On top of that, like Jeter, Nova is homegrown, which makes his success that much more exciting.
There is nothing like becoming a legend in New York and a well-known star in the MLB. Nova has the chance to accomplish both of those things this season, and now it's all up to him to make it happen.
Read more New York Yankees news on BleacherReport.com