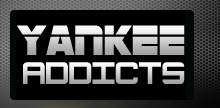 October 10, 2010 · Dan Hanzus · Jump to comments
Article Source: Bleacher Report - New York Yankees
As the Yankees faded down the stretch this season, many fans scrambling for any semblance of hope pointed back to 2000.
That was the year New York lost 18 of 21 games to close out September, their 87 wins still enough to win the division thanks to a little late period "Curse of the Bambino" action.
Those Yankees seemed bored by it all, a bunch of Roger Dorn types, thinking more about their retirement portfolios than continuing a dynasty. They'd won back-to-back titles and three out of four overall—you couldn't blame them for losing focus. What else did they have to prove?
It turned out they weren't done yet. They outlasted the A's in a five game ALDS, then worked past the Indians and Mets for their third straight World Series victory. It was awesome.
A residual effect of that season was that it gave Yankee fans a template to work off in the future. No matter how bad a team looks in September, the switch can always be flipped.
How else to explain the events of this week? The Yankees looked tired and old during a 9-17 September with a playoff date set against the rolling Minnesota Twins. Yet four days later, New York is back in the ALCS and Twins fans are still staring at their television screens like people who hit the play button in The Ring.
How did this happen? How did a series the Yankees seemed destined to lose become a total walk in the park?
My first inclination is to point to Ron Gardenhire, who buried his uniform after losing one game. Nothing says panic like your 52-year-old manager burying his clothes in the middle of a field somewhere in Minnesota.
Another reason is the Yankees' pitching staff, which entered the postseason as the biggest question mark surrounding the team. And while CC Sabathia needed serious help from Mark Teixeira to claim a Game 1 win, Andy Pettitte and Phil Hughes were outstanding. Mariano Rivera, meanwhile, proved that the G.O.A.T. needn't be doubted until he says so.
A huge factor was the return to a sense of urgency completely absent as the Yankees stumbled from division leader to wild card entry. The seventh inning in Game 1 was the turning point of the season—the Twins going from 3-0 up to 4-3 down—and suddenly filled with nagging doubts that they'd never beat the Yankees.
Make no mistake, the Twins beat the Twins as much as the Yankees beat the Twins. Minnesota barely showed up in the Bronx last night. They were mentally shot. There were depth issues here, too. Brian Duensing pitching at Yankee Stadium with your season on the line?
Please. See you next year.
Stray thoughts:
I organized a search party and canvassed every bar in the tri-state area last night looking for Joba Chamberlain. No luck.
I know the Yankees are going to have some time off after wrapping up their series so quickly, but no need to bring in Mariano Rivera last night. The G.O.A.T. had two high-stress saves in the first two games of the series. Remember Joe, the road to 28 will need a driver whose 40.
The Stadium was rocking last night. Here's the equation: Playoff opener + Saturday night + Perfect weather + copious amounts of beer = Good times.
Dan Hanzus writes the Yankees blog River & Sunset and can be reached at dhanzus@gmail.com. Follow Dan on Twitter @danhanzus.
Read more New York Yankees news on BleacherReport.com