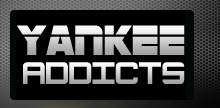 March 10, 2010 · Bronx Baseball Daily · Jump to comments
Article Source: Bleacher Report - New York Yankees
Earlier today I wrote a post complaining about the lack of any actual news coming from the newspapers . In an era where newspapers are rapidly declining, it's almost as if they are trying to destroy themselves.
But just because the newspapers suck, that doesn't mean that there isn't plenty of Yankee-related stories out there worth your time. Leave it to the bloggers to do the newspapers' jobs for them. Here's a list of suggested reading:
Former BBD writer Matt Imbrogno has been examining Brian Cashman's recent trades. Today, he wrote part 2 of his series and it's definitely worth a read .
Mike Axisa of River Ave Blues is taking to task a Phillies' beat writer who has made the claim that the Phillies have the best infield ever despite the fact that, as Axisa points out, they might not even be the best in baseball today (ahem, Yankees).
Jason Resenberg over at It's About the Money, Stupid has a good piece about race in baseball.
This one is a couple of days old, but Gary Wallace from No Maas had a great piece on Nick Swisher.
Marc Hulet of Fan Graphs also released their Top 50 AL Prospects. Jesus Montero is No. 4.
Most Commented Posts
Read more New York Yankees news on BleacherReport.com