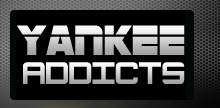 November 25, 2010 · Kate Conroy · Jump to comments
Article Source: Bleacher Report - New York Yankees
With each passing day, this seemingly solid and prosperous marriage between Derek Jeter and the New York Yankees seems to be on the verge of divorce.
No doubt the two are more perfect as a union, as I don't know one baseball fan that can imagine either surviving without the other.
Whose side are you going to choose TEAM JETER or TEAM YANKEES?
Let's take a look at TEAM YANKEES…(click on TEAM JETER to read that post.)
TEAM YANKEES
The other side to this saga has sent people into a tailspin, as $45-$50 million over three years is way more than Jeter's athleticism is worth.
This is true, but Jeter would still be the highest paid shortstop in all of baseball by millions of dollars. Look at the players below in comparison to Jeter:
Jeter is by far the oldest active shortstop, as well as the highest paid in 2010, taking home a $22,600,000 paycheck.
No one can hide the fact that Jeter's age started to show last season, as his skills took a dive.
He'll turn 37 in June 2011, and inevitably the wear and tear will only get worse.
Also, considering the shortstop position is the most athletic on the field, Jeter is seemingly way out of his prime years of production.
So, being offered $15-$18 million a season for a declining shortstop is beyond generous. It keeps Jeter way atop the payday list at his position.
It would seem ludicrous for him to not to be happy with that money. No other ball club is going to offer anything near that.
Who figured the player who says it's not about the money would be baffled by this contract. If it is all about winning then why would he hold up more money that could be used elsewhere?
Could he be jealous of Alex Rodriguez's bigger paycheck?
Well, then Jeter should never have signed for 10 years. He could have made his first big contract seven or six years and then we wouldn't even be having this discussion.
At the time of his contract negotiations, A-Rod was younger and a better player than Jeter; he still is both of those.
Off the field Jeter's behavior has been perfect, which can't be said for the PR shit-storm A-Rod has caused the Bombers post contract.
Basically if you want a better friend, Jeter is your guy. Remember that baseball is about winning, not about who did what three years ago.
Jeter is already rich and it's not like the Yankees are low balling him. Looking at the market, he is getting way more than his skills are worth.
The fact now is that GM Brian Cashman has made Team Yankees position clear with this statement:
"We understand his contributions to the franchise and our offer has taken them into account. We've encouraged him to test the market and see if there is something he would prefer other than this. If he can, fine. That's the way it works."
Jeter is going to get a big wake-up call when offers don't come rolling in with his price tagged, but the fan backlash is what will sting for the Captain.
Jeter wants a bigger paycheck than $45 million in an economy where people can't afford to eat and have lost their homes.
I would love to hear Jeter's explanation to Yankee fans, listing all the reasons why that is not enough money to bring his talents back to the Bronx.
Jeter once said:
"We just want to win. That's the bottom line. I think a lot of times people may become content with one championship or a little bit of success, but we don't really reflect on what we've done in the past. We focus on the present."
So, why is Derek Jeter so "baffled" by the Yankees offer if the focus is on the right now?
Read more New York Yankees news on BleacherReport.com