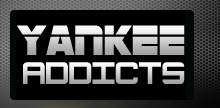 November 10, 2010 · Kate Conroy · Jump to comments
Article Source: Bleacher Report - New York Yankees
Ex-New York Yankees Captain Derek Jeter is getting a lot of heat from the media lately.
Today's announcement of Derek Jeter winning the 2010 Gold Glove Award for best defensive AL shortstop is adding fuel to the fire.
Not 'cause Jeter is smoking hot, actually quite the contrary. Adjectives like over-paid, selfish, undeserving and messy are being used.
It must be jealousy or just Yankee haters' first opportunity to pounce on the Captain, but it all seems very rotten.
Since I have been a baseball fan it is entirely unfeasible to find anyone, even a Boston Red Sox fan, who did not respect Derek Jeter the player and the person.
That same sentiment for Jeter is also unanimous from his own peers, coaches and managers across baseball. Jeter has been hailed for his work ethic and attitude. Players admire Jeter's class and the dignity by watching the way he carries himself every day, both on and off the field.
Legendary sports writer Gay Tales said it best:
"Endowed as he is with all that talent, all that money and such impeccable manners-that makes him an anachronism. In this era of boorish athletes, obnoxious fans, greedy owners and shattered myths, here's a hero who's actually polite, and that has to have come from good parenting. You can't compare him to Joe DiMaggio, for DiMaggio didn't have bad manners—he had no manners. Where have you gone, man with manners? Here you are, Derek Jeter."
Jeter has not been seen nor heard, and nothing factual has been stated about his current contract negotiations from the Yankees organization.
So all this boundless chitchat for what reason is beyond me.
Everyone knows that 2010 was Jeter's worst career performance, and no one is saying differently. Some people have never thought Jeter was that good defensively, but if they can kiss his five World Series rings and can repeat that sentiment over again, then they don't know baseball or sports for that matter.
Blaming a guy who never asks for any attention, who embodies what a true professional is in sports, all because he is getting a higher paycheck or given an award is just plain petty.
Excuse all the MLB coaches and managers for voting for a player like Jeter. Obviously these managers, who are all ex-players themselves, don't know squat about the game at all, right?
Wrong….and shame on everyone who shoots down Jeter for receiving an award that others felt he deserved. Take it up with the managers and coaches who voted for #2.
Will this same attitude go if Phillies Jemmy Rollins wins the NL Gold Glove?
Not from me, as I have never played or managed on a professional baseball team. Making my opinion irrelevant because experience knows what wins, and that vote I trust to be accurate.
Derek Jeter is not Brett Favre, Manny Ramirez or Alex Rodriguez, nor has he ever wanted to be an athlete whose personal issues hurt a game he loves so much.
When I think of Jeter-types athletes I want to embrace this almost extinct competitor, not ridicule them for one bad season.
Read more New York Yankees news on BleacherReport.com