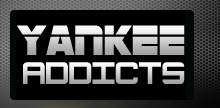 May 23, 2009 · Cliff Eastham · Jump to comments
Article Source: Bleacher Report - New York Yankees
(Author's note: This is the first in a series of articles designed to educate the younger readers about some of the greats from years gone by.)
Jack Chesbro does not hold the Major League record for wins in a season, as most people believe. In fact, he doesn't appear in the Top 10. He does own the record beginning with the Dead ball era which started in the year 1900. In 1904 Chesbro won 41 games for the New York Highlanders (an ancestor of the Yankees).
His 41 win season was bittersweet as he lost his 12th game on the final day of the season. The Highlanders lost the game and the pennant when a Chesbro spitball sailed over the catcher's mitt allowing the winning run to score. There are some who have said it should have been ruled a passed ball instead of a wild pitch.
John Dwight Chesbro was born June 5, 1874 in North Adams, MA.
Happy Jack, as he was nicknamed, began his professional career with the Pittsburgh Pirates in 1899, and remained there for four seasons. During his tenure with Pittsburgh he pitched them to their first ever pennants in 1901 and 1902.
In his final campaign as a Pirate, Jack won a league best 28 games and lost only six. He compiled an ERA that season of 2.17, and led the league in shutouts with eight.
Chesbro wasn't a big man, in fact he was rather diminutive, standing only 5' 9" tall and weighing 180 pounds.
He was one of the earlier "spitballers" in baseball, and arguably the best. He honed that craft at a time when some pitchers were experimenting with it. As a side note spitballs were legal in Major League Baseball until 1920.
Jack moved to the just formed New York Highlanders in1903 and started the first game in that franchise history. For the third season in a row, Chesbro was a twenty game winner. He went 21-15 that first season with the Highlanders.
After his record breaking season Jack would be a twenty game winner only once. In 1906 he won 23 and lost 17.
In 1904 when he won 41 games, he had an ERA of 1.82. He started 51 games and completed 48 of them, both being league bests. He pitched over 454 innings, which led the league, striking out 239. Jack's WHIP that season was a very good 0.937.
Chesbro had enough very good seasons to make up for the brevity of his career of just 12 years.
In 1909 his skills had diminished, so Jack retired from baseball, with 198 career wins and a very good 2. 68 ERA.
After retiring from baseball Jack was a business man, running a saw mill in his birthplace of North Adams. He would pitch on occasions with semi-pro teams and traveled to other mill towns to play.
He was named baseball coach at Amherst College in 1911, and in 1924 Clark Griffith, his manager in 1904, brought him back to the major leagues for a brief role as a coach for the Washington Senators. Although the team was to win the pennant, fans were slow to respond and Chesbro was dropped for payroll reasons.
On November 7, 1931 Jack Chesbro died on his chicken farm of an apparent heart attack at the young age of 56 in Conway, MA.
He was elected to the National Baseball Hall of Fame in 1946, and will always be remembered for winning 41 games in 1904.