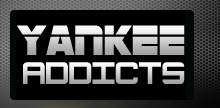 December 8, 2011 · Michael Moraitis · Jump to comments
Article Source: Bleacher Report - New York Yankees
It feels like it's been a lifetime since the New York Yankees were knocked out of the MLB postseason in October. Since then, it's been a quiet trip to December and nothing since entering the Winter Meetings in Dallas.
With the big names on the free-agent market beginning to find their places to sign, the Yankees still find themselves with the same old problems in their starting rotation.
Enter Yu Darvish. It was estimated the Japanese star wouldn't be posted until January, but instead Darvish is ready now. Let the games begin.
New York already posted the highest bid for shortstop Hiroyuki Nakajima, and now might have their sights set on Darvish. History with Japanese pitchers aside, a slow market might make the Yanks big players for him.
The Yanks are actively shopping A.J. Burnett, and if they are successful in moving him in any way, they will need to fill his spot in the rotation. I'd imagine it won't be another pitcher the caliber of Freddy Garcia.
Brian Cashman has been active the past few days, and it seems perfectly aligned with Darvish unexpectedly posting early. I think this could be a strong indicator that the Yankees are in contention for the 25-year-old pitcher already.
There is speculation that Darvish could command more than the $100 million or so Daisuke Matsuzaka cost between posting bids and actual contract figures.
That's a lot of money for a pitcher who's never thrown a day in the MLB. Another startling fact is that Japanese pitchers often work on six days rest while sometimes going down to five. Darvish will of course have to throw on four days rest for the Yankees, just another risk of transitioning to the American game.
It's tough to say I could throw $100 million at that.
Read more New York Yankees news on BleacherReport.com