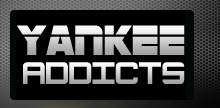 December 11, 2011 · Michael Moraitis · Jump to comments
Article Source: Bleacher Report - New York Yankees
New York Yankees general manager Brian Cashman doesn't have a good outlook in the 2011 MLB free-agent market. Of the two options he has left, one is inconsistent, one is an unknown, and both are overpriced.
Edwin Jackson will be too expensive for the lack of reliability he will bring to the pinstripes. Japanese star Yu Darvish, on the other hand, hasn't proved he can make it in the majors. Is that worth throwing $80 to $100 million at?
It's looking like more and more that this free agency period will pass the Yanks by, leaving them with no better than what they had in 2011. Problem this year is that it's the second year in a row with the same rotation, and thinking it will work again borders on insane.
It appears the Yanks best chance is to dive into a trade market which is just as slim. Even there, the Yanks will be certain to overpay, already being asked for a ridiculously high price for lefty starters John Danks and Gio Gonzalez.
After looking at the package Oakland A's GM Billy Beane wanted, I can't imagine Cashman making any trades this offseason. Unless, of course, he is coerced by his bosses in Tampa.
Cashman will have to decide if he can give up some of the Bombers' top prospects, because it will be the only way to bring in a viable starter. With a possible scent of desperation in the air, there will be several teams ready to poach every good prospect the Yanks own.
Now I know I said thinking the same rotation can work two years in a row borders on insane, but is it any less crazy to pay almost, or more than, $100 million for a guy who has never pitched in the majors?
Or is it any more credible to say you'd give up your entire future for a starter who might fade into pitching obscurity if he fails, while the pieces you gave up in return turn out to have great careers well into the future?
At least the rotation the Yanks have now have has a track record, including a playoff-run last season. Sure, they'll be minus Bartolo Colon and his eight wins from last season, but that could easily be made up by a healthy Phil Hughes.
And taking that chance won't cost the Yankees their farm system.
Now that I look at it, my initial assessment of insane doesn't appear entirely accurate.
If thinking the Yankees are better off holding onto their prospects and their money, and forgetting about this nightmare offseason is crazy, then put me in a straight jacket.
Because I still might be more sane than you.
Read more New York Yankees news on BleacherReport.com