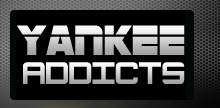 December 1, 2011 · Michael Moraitis · Jump to comments
Article Source: Bleacher Report - New York Yankees
It's no surprise that Jorge Posada reached out to the New York Mets to see if they wanted his services for the 2012 season. It was a move that would keep him playing and in New York both at the same time.
It's also no surprise that the Mets have turned him down. New York is in the process of rebuilding, and the last thing they need is an over-the-hill catcher who really doesn't have the ability to play a position well. Without a DH, Posada would have even less options for getting into games. He's barely a backup catcher anymore, and with Ike Davis patrolling first base for the Mets next season, that would be another position Posada wouldn't play.
In what will most likely be a boring season for the Mets next year, they could have made a splash and drawn some attention to their team next year, but not even that kind of exposure was worth bringing in a guy who has certainly proven delusional when it comes to what role he expects to play.
The move would've made no sense at all for the Mets to do, and thus they passed on the option.
So, this means Posada will have to go out of state to play baseball next season—that is, if any team outside of this state even wants the former New York Yankees' catcher.
After building quite the legacy in New York as a winning player who contributed to a great era in Yankees history, Posada has been reduced to a player who can't read between the lines that it's his time to go. He'll never be the same contributor he was in years' past offensively, and he lacks any semblance of a defensive game.
If he wants consistent playing time, he will have to join a bad team and play a 162-game schedule with no hopes of a playoff appearance in his future. If he wants to win, he'll defeat the purpose of his desire to play and will spend most of the season in a reserve role.
There is nothing left to prove, either. Posada has accomplished many great things in his career, won championships and at one time was one of the best players at his position, mostly with the bat.
Sometimes you just need to let go, and in Posada's case, that time is now.
If he wanted it, I'm sure the Yankees would set him up with a nice coaching job, with an opportunity to one day advance to being a manager, as the Bombers have done with many of their former players.
I would truly be shocked if Posada plays in 2012.
Read more New York Yankees news on BleacherReport.com