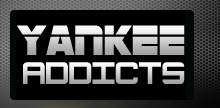 December 23, 2011 · Michael Moraitis · Jump to comments
Article Source: Bleacher Report - New York Yankees
It appears the New York Yankees and Boston Red Sox will square off 20 times in 2011, the final showdown being the pursuit of free-agent starting pitcher, Hiroki Kuroda.
So where does each team's need for a starter come from?
In New York, the Yankees have about as unsure a starting rotation as can be. Behind CC Sabathia, Ivan Nova is coming off a great rookie season in which he became of vital importance to his team. But there is no telling if Nova can do it again.
He'll have to avoid the dreaded sophomore jinx, and even though Nova has shown to be cool under pressure, that still doesn't guarantee his success in the future. It only helps it along.
As for starters three through five, right now it looks like Phil Hughes, A.J. Burnett and Freddy Garcia will be in those slots. But that isn't even a certainty as no doubt guys like Hector Noesi and Dellin Betances will get a shot to make the starting rotation out of spring training.
But all six of those options, Nova included, all have one thing in common: uncertainty.
As for Boston, they are coming off the worst collapse in MLB history, desperately needing to change things—and fast.
Jon Lester and Josh Beckett should be more than sufficient enough to give Boston success as their one and two starters. But even Beckett is getting up there in age and could begin to decline at any time.
Don't forget, since 2006, Beckett's been very inconsistent every other year. And if the trend continues, 2012 might not be a good year for him.
Clay Buchholz should be ready for spring training, but battled injuries all season long. There is no telling how he will bounce back.
John Lackey's season-ending injury leaves the Red Sox short a starter, but Lackey could just as easily be replaced by a Triple-A pitcher because of the horrid season he had last year. Still, it leaves a void in the rotation.
So clearly, both teams have one thing in common: they need a reliable starting pitcher.
One of the best men for that job, which has stood true throughout this offseason, is Kuroda.
In his four seasons with the Los Angeles Dodgers, Kuroda made over 30 starts in three of them. His career record is 41-46 with a 3.45 ERA.
2011 was his best season, and while his 13-16 record with a bad team isn't very telling, his 3.07 ERA was. It's likely that if Kuroda moves to the AL East, his ERA would go up—moving from a weak offensive division to the best in baseball.
That being said, even if it does go up, Kuroda would still be a nice fit in the No. 3 slot of either team's rotation.
After dropping his desire to play on the west coast and closer to his native Japan, Kuroda became a top target of both teams. Kuroda will be 37 years old next season, and is a good fit because he won't be a long-term commitment.
Kuroda is expected to ask for a $12 to $13 million contract. I think that's a deal that both the Yankees and Red Sox, both having deep pitching concerns, would be willing to make.
Both teams have the need, the money and the competition from one another to get this deal done.
So, let the games begin!
Read more New York Yankees news on BleacherReport.com