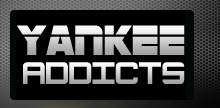 January 20, 2012 · Rick Weiner · Jump to comments
Article Source: Bleacher Report - New York Yankees
While the talk around town has been focused on a reunion with former Yankees Johnny Damon, Hideki Matsui and Carlos Pena (who spent a large part of 2006 with the Yankees' Triple-A team), Manny Ramirez sits at home, patiently waiting to see if he will receive an invite to spring training from any major league team.
Ramirez, who turns 40 in May, has played in 95 games since the end of the 2009 season and famously quit on the Tampa Bay Rays last season, announcing his retirement after finding out that he failed yet another drug test.
In regards to his abrupt retirement, Ramirez attempted to explain himself last month in an interview with ESPN Deportes:
I was badly advised, I took a decision I should not have taken. I should have said something to my fans, I was surrounded by many people who gave me bad advice. I made an emotional decision, but I have regretted that decision since the day I made it.
But Manny has been reinstated by MLB, and while he will have to serve a 50-game suspension, should he find himself added to someone's roster, what players that remain on the open market bring with them the resume that Ramirez does?
Yes, Ramirez is one of the biggest boneheads (for lack of a better "PG" term) in sports history.
Yes, his antics and the tired excuse of "it's just Manny being Manny" would last all of five seconds in New York.
Those facts are indisputable.
It is also indisputable that well before the talk of performance enhancing drugs swirled around him, Ramirez was already a Hall of Fame player and one of the greatest sluggers the game has ever seen.
So while Andruw Jones performed admirably as the DH against left-handed pitching in 2011, is there really an argument that can be made where Jones is a better hitter than Ramirez?
Look, nobody knows if Manny has anything left in the tank, or if his claims that he has changed and will be a "role model" if given a second chance are sincere.
While George Steinbrenner is gone, he spent the latter part of his career giving people a chance to redeem themselves—Dwight Gooden, Darryl Strawberry and the late Steve Howe could attest to that. Prince Hal wants to be his father, so why should that change now?
Really, what is the worst that could happen? Ramirez shows up at spring training and it becomes quickly evident that he has nothing left in the tank, that he can no longer play the game. He is either released or agrees to start the year in Triple-A.
But what if he does have something left? What if he can still hit like he used to hit?
There is simply no harm in finding out the answer to that question.
Read more New York Yankees news on BleacherReport.com