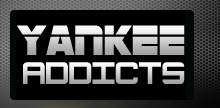 May 1, 2013 · James Morisette · Jump to comments
Article Source: Bleacher Report - New York Yankees
Whether you like the New York Yankees or not, baseball fans have got to respect what Joe Girardi and co. have been able achieve through the first month of the 2013 MLB campaign.
The bombers are missing huge star power from its mighty steel armada. Gone are Derek Jeter, Curtis Granderson, Mark Teixeira and Alex Rodriguez, all of whom are rehabbing from injury. Also departed to injury are Francisco Cervelli, Kevin Youkilis and Ivan Nova.
For most teams missing this much firepower, it would be excuse after excuse as to why the baseball gods were united against them.
But thus far, the Yankees have made no excuses. This proud ball club has simply strapped its nose to the grindstone and churned out victories like a champ.
Though undoubtedly flawed, the Yankees are 16-10. They trail the ridiculously red-hot Boston Red Sox by two games in the AL East.
Ripping a page from the 2012 Baltimore Orioles playbook, the Yankees have signed MLB journeymen, castoffs and injury-plagued players for the lowest price possible.
This includes Travis Hafner, Vernon Wells and Lyle Overbay, all of whom have more than held the fort for the Yankees. Together, these men have batted .285 and have accounted for 18 of the Yankees' 36 home runs.
Per ESPN statistics, the Yankees are tied for second in the league in team home runs. They are just two home runs behind the league-leading Atlanta Braves.
Hafner has been the most impressive of this bunch. In 22 games, he is batting .318 with six home runs and 17 RBI. Hafner also has a solid .438 OBP, .667 SLG and 1.104 OPS.
Wells is batting .300 with six homers and 13 RBI.
Both men trail Robinson Cano for the team lead in homers by just one moonshot.
So much for fears of a power outage in the Yankees lineup.
Of course it would be biased to not state that pitching and defense are the Yankees' Achilles heel.
The Yankees' ERA is 4.00, which is 19th in baseball (per ESPN stats). The starting rotation's ERA is 3.77, which is 14th. The Yankees' 24th-ranked bullpen owns a brutal 4.46 ERA.
Only bullpens from the Houston Astros and St. Louis Cardinals have a worse batting average against than the Yankees .269 BAA.
Defensively, the Yankees have committed 17 errors in 26 games. This team's .983 fielding percent ranks 20th in the major leagues (also per ESPN stats).
This is a far cry from past Yankees teams.
Yet for all the Yankees' April pitching and defensive issues, this team keeps on winning.
For Yankees fans this has to be inspiring. This is especially true when one considers that injured stars are close to returning to the lineup.
When these stars do return, the Yankees will evolve into a flexible lineup where they can interchange and rest players without much of a drop off in performance (and power).
And naturally, with the return of Jeter, Teixeira and Granderson, the Yankees defense will improve.
While pitching must improve for the Yankees to continue winning, the team's offense come June and July will be scary.
It is for this reason the other four teams in the AL East had better keep their foot on the gas. Otherwise, they will once again find themselves chasing the Yankees for the AL East crown.
Read more New York Yankees news on BleacherReport.com