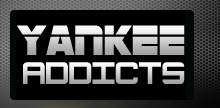 News published by
May 1, 2013
Whether you like the New York Yankees or not, baseball fans have got to respect what Joe Girardi and co. have been able achieve through the first month of the ...
February 4, 2013
Recently, Jon Friedman of the Wall Street Journal wrote a commentary about how the retooled and trendy Los Angeles Dodgers are armed and ready to unleash business and broadcast warfare ...
October 8, 2012
Monday's Game 2 affair between the New York Yankees and Baltimore Orioles was intriguing as ALDS games come.For Baltimore and its fans, the message was clear: win or face near ...
October 7, 2012
In what is shaping up to be an electric series, the Baltimore Orioles and New York Yankees engaged in a baseball street fight for the rights to Game 1 of ...
September 21, 2012
Have to give it to some people in today's sports media. These folks sure knows how to douse the New York Yankees with high-pressured negativity.   Talk about a core ...
September 14, 2012
The New York Yankees have experienced their fair share of vitriol during their long and illustrious history. But now a controversial Taiwanese anime website called Next Media Animation (NMA.tv) has ...
September 10, 2012
Oriole Park at Camden Yards was an inspiring sight last weekend. Under an umbrella of mostly beautiful weather, a nice mix of Baltimore Orioles and New York Yankees fans filled ...
September 4, 2012
Every year since 1980, the New York Yankees have recognized the best performing hitter and pitcher within its minor league system with what is now called the Kevin Lawn ...
August 31, 2012
Baseball is the most flip-flop sport there is on the planet. One day it can be a jerk; the following day it can be a team's best friend.But dealing with ...
August 28, 2012
The fly on the wall in the executive offices at Fenway Park has got to be chuckling her wings off—right above the heads of the Boston Red Sox brass. For ...