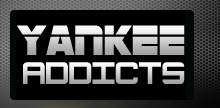 April 1, 2010 · Perry Arnold · Jump to comments
Article Source: Bleacher Report - New York Yankees
It is April 1. As I write this I can look out the window at blooming forsythias and fat robins hopping in too green grass.
In three days, baseball starts for real with my team opening in Fenway Park. The New York Yankees are the greatest team in the history of the game and begin the new year defending their 27th world title.
But as an undying, but objective, fan of the Yankees, they will not win their 28th title in 2010 and they will not repeat as victors of the AL East.
This is a weaker team than we saw last year and three of their rivals in the most powerful division in baseball got better over the winter.
The Yankees start the year with a shortstop who will be 36 in June, a catcher who will be 39 in August, and a closer who turned 40 in November. They have one starter who has never shown he can be consistent, another starter who has been nothing but the model of consistency but is older and has flirted with retirement, another starter who comes back to the Yankees from the National League and has never been great in his four years in the AL, and a 24-year-old who has not proven he can be a productive starter in the bigs.
Derek Jeter comes off one of his greatest seasons and, barring injury, there is no reason he should not hit .315 or better and score 100 or more runs. But one cannot ignore his age and last year was the first time he went injury free for several years.
Jorge Posada is still the starting catcher. But his age and his leg and arm woes since 2008 cannot be ignored. There have been very few 38-year-old catchers who remain steady behind the plate. Posada is projected to catch only 100-120 games.
Mariano Rivera is a freak, the greatest closer in the history of the game. But just as you cannot ignore Jete's advancing calendars, you cannot ignore that Mo is 40, Good Lordy. Again, no reason to think he will not be great again this year, but sooner or later, the sands of time pile up in the bottom of the hour glass. This may be the year for Mo.
AJ Burnett is the No. 2 starter for the Yanks and he has the stuff to be GREAT! But he has never been great. He has sometimes been very good. But he has never been consistently very good. And there is no reason to think that his karma suddenly merges in 2010.
Andy Pettitte had a rough spell in the second half of 2008. But last year he returned to his steady ways. The Yankees would not have won the title last season if Andy had not been so stellar in the fall. Age, age, age. When will it begin to affect the great Yankees? If Andy pitches as he did last year, the team may be very, very good. If he slides, there is trouble ahead.
Javy Vazquez was very good in Atlanta last year and with that Yankee fans and pundits have looked at him as though he arose on the third day. No one wants to even consider his four years in the American League and the fact that he has never been even marginally good in the AL. Some of his wins last season were suspect. If he is healthy he will eat innings, but don't expect an ERA below 4.00 with the competition he will now face.
Phil Hughes has been heralded as a great starting pitcher for the Yankees for so long that we forget how young he is. He won the job as the fifth starter out of camp, but he is not proven over the long haul as a major league starter and the Yankee brass will impose some form of the STUPID Joba Rules on Phil this season. Probably going to skip starts, limit innings early, rather than late as they tried to do with Chamberlain last year. But how sharp will Phil be two weeks from now when he makes his first start on April 15?
The Yankees let a lot go with Hideki Matsui, Johnny Damon, and Melky Cabrera. This writer did not advocate keeping the sore-legged and aging Matsui or the sore-armed and really aging Damon. But their bats and the production of Cabrera will be missed.
Nick Johnson will be the perfect two hitter in Damon's spot, if, (BIG IF HERE), if he stays healthy. Chances are better that Nick keeps himself in the lineup when he will DH almost exclusively. He will get on base four out of every 10 times. But he will hit into more double plays than Damon and there's no way he matches the DH power numbers Matsui put up last year.
Curtis Granderson replaces Damon in the outfield and may reach Damon's number of home runs. But Granderson has never proved he can hit left handed pitching and he strikes out way too much.
You don't have to have as much out of Curtis hitting seventh, where he is projected. But when you follow him with Nick Swisher, who also struck out more than 140 times and Brett Gardner whose history would project about 100 strike outs over 550 at bats, you have a very unproductive bottom three.
You also cannot ignore that in 40-60 games, Francisco Cervelli is projected to also be in that batting order. Cervelli is a great defensive backstop and provided some unexpected production in his limited time with the big team in 2009. But there is nothing in this past that says he will produce with the stick in the majors.
The Yankee lineup is much weaker than last year. The team must have another great year out of Jeter, consistency from Johnson, MVP years from Alex Rodriquez and Mark Teixeira and another .320 season out of Robinson Cano to make up for the deficiencies in the offense.
The Yankees have the best defensive infield in baseball and have improved their outfield defense whether Gardner or Randy Winn is in left. Damon was so bad in the field, the team had nowhere to go but up.
What the Yankee management really seems to be doing is projecting to 2011 when they may have new players such as Carl Crawford and/or Jason Werth in the outfield and possibly a stud catcher behind the plate in Jesus Montero.
Perhaps the biggest problem for the 2010 Yankees is that they have to play in the AL East where three teams got markedly better for this year.
The Red Sox have the best pitching staff in baseball. The addition of John Lackey and the increased experience of Clay Buckholz simply make them overpowering on paper.
When the Sox can start Josh Beckett, Jon Lester, John Lackey, Clay Buckholz and either Daisuke Matsuzaka or Tim Wakefield, there is no better starting staff in either league. And their bullpen was very good last year and looks to be even better now.
The Tampa Bay Rays dropped last season from their World Series form of 2008. But expect them to be very good again and they are good in areas that don't falter week in and week out. Their defense and their team speed make up for weaknesses elsewhere.
The Eastern doormat is better. The Orioles went out and made some acquisitions that will improve them and teams will not be as happy to face this bunch of Birds 18 or 19 times per season.
All in all, the Yankees are not the team they were last season. Don't expect Granderson, Swisher, and Gardner to be the kind of hitters we have grown accustomed to seeing in Yankee lineups of the past 10 years.
The Yankees will finish second in the AL East. But improved teams in other divisions, including Seattle, make it uncertain if they can garner the Wild Card slot.
Read more New York Yankees news on BleacherReport.com