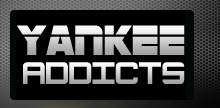 March 3, 2010 · Bronx Baseball Daily · Jump to comments
Article Source: Bleacher Report - New York Yankees
For most of us the Yankees season never really ends, instead they kind of just stop playing baseball and start the rumble of the offseason. For some though, they're is football, basketball, and hockey that keeps you busy during the cold winter months. This article is for those people who missed most of what went down this offseason (although I'm sure there will be some who were paying attention that wouldn't mind the review).
Additions: LHP Andy Pettitte, DH Nick Johnson, OF Randy Winn, OF Marcus Thames, OF Curtis Granderson, OF Jamie Hoffmann, RHP Javier Vazquez, LHP Boone Logan, OF Greg Golson, LHP Royce Ring.
Subtractions: OF Johnny Damon, DH Hideki Matsui, OF Melky Cabrera, RHP Chien-Ming Wang, LHP Phil Coke, RHP Brian Bruney, OF Austin Jackson, RHP Ian Kennedy, RHP Arodys Vizcaino, C Jose Molina, OF Eric Hinske, IF/OF Jerry Hairston Jr., OF Xavier Nady, LHP Michael Dunn.
Here is how it happened in time-line form:
November 20 – the Yankees add seven players to their 40-man roster including RHP Hector Noesi, RHP Ivan Nova, RHP Romulo Sanchez, INF Reegie Corona, INF Eduardo Nunez, INF Kevin Russo, and OF Austin Jackson.
November 21 – Shelley Duncan is outrighted to the minors. That was the first step in his path to free agency. So long Shelley.
December 7 – right handed reliever Brian Bruney is traded to the Washington Nationals for a player to be named later. That PTBNL eventually becomes outfielder Jamie Hoffmann who was selected in the rule five draft.
December 8 – The Yankees trade righty Ian Kennedy, lefty Phil Coke, and Austin Jackson for outfielder Curtis Granderson.
December 9 – Andy Pettitte is resigned to a one-year $11.75 million deal.
December 11 – The Yankees take Jamie Hoffmann with the first pick in the Rule five draft, but they lose lefty Zach Kroenke and righty Kanekoa Texeira.
December 13 – Chien-Ming Wang officially becomes a free agent after the Yankees non-tender him to avoid paying him at least $4 million he would have made through arbitration.
December 14 – Hideki Matsui officially leaves the Yankees when he signs a one-year deal with the Angels worth $6.5 million.
December 17 – Nick Johnson is signed to a one-year deal worth $5.75 million with a mutual option for 2011.
December 22 – Javier Vazquez is acquired along with lefty Boone Logan when the Yankees traded Melky Cabrera, lefty Michael Dunn, and top prospect right hander Arodys Vizcaino. They also added minor leaguers Mike Rivera, C, and Javier Herrera, OF.
January 7 – The Yankees announce their entire coaching staff from 2009 was returning for 2010.
January 12 – lefty Royce Ring and outfielder David Winfree sign minor league contracts.
January 17 – Jerry Hairston Jr. signs with the San Diego Padres.
January 26 – Outfielder Greg Golson signs a minor league contract.
January 27 – Randy Winn signs a one year $1.2 million deal.
February 8 – Marcus Thames returns to the Yankees on a one-year minor league contract.
February 22 – Chan Ho Park signs a one-year deal worth $1.2 million which is announced at 1:00am ET.
Thoughts: It feels like the team the Yankees are bringing into 2010 is largely the same as the 2009 version, but there are quite a few differences. A third of the lineup is gone, Damon, Matsui, and Cabrera, and Nady and Austin Jackson too. As well as the guy who has been their ace for the past couple of years, Chien-Ming Wang. Throw in three important bench pieces, Molina, Hairston, and Hinske, and this is quite a different team.
On paper they've made good moves and gotten younger, but there is a at least somewhat justified fear in the hearts of some Yankee fans because they've lost what were key players on a world champion. The farm system has also taken a decent hit as the Yankees two biggest offseason moves, trading for Granderson and Vazquez, had depleted it.
Overall though, I feel like the Yankees made some smart moves. The offense is younger and the pitching staff is deeper with more dependable pitchers. Right now my major concern is health, if the Yankees can keep it they'll do very well in 2010. Without it, they certainly could struggle.
Where do you stand? Good offseason? Do you have any lingering concerns?
Read more New York Yankees news on BleacherReport.com