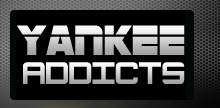 October 6, 2010 · Bronx Baseball Daily · Jump to comments
Article Source: Bleacher Report - New York Yankees
Yesterday I posted a couple of Q&As that I did with Twins bloggers Over The Baggy and Twinkie Talk. We're not done yet.
Today we get a chance to hear another Twins point of view thanks to Seth Stohs from Seth Speaks. Seth Speaks is another member of the Baseball Bloggers Alliance who runs a great site about the Twins that has been around since June of 2003. That's an amazing run in the blogosphere, and shows he's got a ton of experience covering those Twinkies.
Thanks a lot to Seth, good luck to him and his blog, but hopefully his Twins won't make it past the first round.
Bronx Baseball Daily: It seems like a lot of Yankee fans preferred that the Yankees settle for the wild-card in order to avoid the Rangers and face the Twins. How do you feel about this from a Twins fans perspective?
Seth Speaks: I couldn't help but wonder myself if the Yankees and Mr. Girardi didn't play with the intent of getting to play the Twins in the ALDS. There does seem to be a real concern about how Cliff Lee has done in the past against the Yankees, and how that translates to a best of five series. So, I definitely understand.
In all honesty, I can't blame the Yankees for preferring to play the Twins. They have dominated the matchup the last decade, and as a Twins fan I can't help but wonder how much the Twins are intimidated by the Yankees mystique. And I say that because as great as the Yankees teams have been, the Twins teams have not been as bad as they have played against the Yankees.
Hopefully one of the Yankees makes the mistake of saying that they really preferred to play the Twins, to give the Twins a little clubhouse chalkboard material.
BBD: What is different about the Twins since last year's ALDS?.
SS: A lot. They have a new stadium that is loved by the players and the fans. The increased revenue streams have allowed them to go out and add some reinforcements to the home-grown players that the Twins really prefer.
They have a new keystone combo in JJ Hardy and Orlando Hudson, two veterans who, when healthy, have really stabilized the Twins infield. Jim Thome signed a one year, $1.5 million deal with the assumption that he would only be a role player. I'd say he's filled his role quite well.
Danny Valencia is new to the Twins lineup (at 3B) since the Twins and Yankees last played this May. Consider the Twins infield in game one of the ALDS a year ago was Nick Punto, Orlando Cabrera and Matt Tolbert—I would say this is a huge improvement.
In July, the Twins acquired Matt Capps as their closer, and Brian Fuentes came to the Twins in August. Of course, the negative side of the question is that Joe Nathan had Tommy John surgery in spring training and missed the entire year. Unfortunately, like a year ago, Justin Morneau is also out of the lineup again.
BBD: What is the current state of the rotation/bullpen?
SS: Since clinching the division nearly two weeks ago, the Twins starters have been given rest, additional days off. The performances have not inspired a ton of confidence among Twins faithful, but I do think that the rest will be a good thing. Francisco Liriano had a really good year, but there are concerns about his first innings and getting way too amped up, so expect Joe Mauer to go out and talk to him frequently.
Carl Pavano has been terrific ever since coming to the Twins in August of 2009. A case could be made that Brian Duensing was the Twins' best starter in the second half. He had an amazing season. However, he has been struggling a little with his control his last three outings, and he mentioned that he has been having struggles getting loose, so that is worth watching. Most likely Nick Blackburn will start game four. He was so bad starting in June that he was optioned to AAA. Since he came back, he has been terrific!
Matt Capps is no Mariano Rivera, but he has been able to get the job done most games. Fuentes missed some time after coming to the Twins, but he is really good. Jesse Crain has been as good as any reliever in the game since mid-May. Matt Guerrier has been a top set-up man for the past four years. Twins fans just really don't want to see him face A-Rod!
If Jon Rauch is healthy, he has been decent. He was Capps-like in the first half. Jose Mijares is the second lefty out of the 'pen, but he has been struggling since coming off the disabled list in early September. The final bullpen spot will likely go to Kevin Slowey who won 13 games this year. Scott Baker has been having elbow problems and is expected to miss at least the ALDS.
BBD: Yankee fans generally consider Carl Pavano a joke, what's his reputation from the Twins perspective?
SS: Pavano has been everything that Twins fans could have ever hoped for and a million times more. He has been a leader in the clubhouse and among the pitchers. He has been terrific on the mound since joining the Twins. He pitches to contact, but gets terrific movement, generally keeping batters off-balance.
The best thing for the Twins is something that Yankees' fans likely would never believe when talking about Pavano: he has been remarkably durable. He threw 221 innings in 2010.
BBD: What is the current state of the offense?
SS: Target Field has hurt the Twins' home-run numbers in 2010. However, this team scores more runs, drives a lot of doubles. Joe Mauer's home run total dropped significantly, but he didn't alter his swing the entire season and in the end hit .330 again with a career-high 43 doubles.
Delmon Young finally showed his promise in 2010, hitting .298 with 21 homers and 112 RBI. Danny Valencia has exceeded all expectations and should finish in the top three in AL Rookie of the Year voting.
It's interesting that the Twins' offense is not a concern when they have had down years from Denard Span, Michael Cuddyer and especially Jason Kubel. Orlando Hudson had an excellent first half but has gone backwards in the second half.
But the story of the season has to be Jim Thome. He was supposed to be a bat off the bench and occasionally get starts at DH. The Morneau injury means that he has had to play more, and he has come through big time.
BBD: Do you think the Twins would have done better against the Yankees in a short series or a longer one?
SS: This is a tough question because I think the fact that the Yankees have struggled against left-handed pitching, and the Twins could throw three lefties in five games, is a positive for the Twins. Of course, the same can be said with the Twins trying to hit Sabathia and Pettitte. I think that the Twins depth in pitching could help out over a seven game series though. So I feel good about the Twins' chances either way.
BBD: Discuss the new stadium, how does it change things?
SS: Instead of losing fly balls in the Teflon roof, they can be lost by a high sky or by being wind-blown. The Twins and their fans are filling Target Field every game and the intensity will be very high. It won't be loud like the Dome, but it will still be very loud.
Singles that used to get through on the turf get eaten up by the grass and turn into outs. In general, Target Field is a pitcher's park. Despite a six-home-run game by the Blue Jays last weekend, the ball generally does not fly out of the field.
Thanks again to Seth. We've done three of these Q&As with Twins bloggers now, and I have to say, Twins fans are lucky to have such great blogs.
Most Commented Posts
Read more New York Yankees news on BleacherReport.com