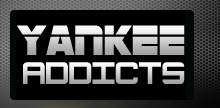 April 7, 2010 · Bronx Baseball Daily · Jump to comments
Article Source: Bleacher Report - New York Yankees
For those of you who don't know who he is, Mike Ashmore runs a Trenton Thunder blog for the Hunterdon County Democrat.
He's also one of the better, and more hard working bloggers out there, covering the Yankees organization.
Well, I'd say he topped himself yesterday as he interviewed at least nine members of the organization during the Thunder's media day.
Here are the interviews:
Tony Franklin
Grant Duff
Ryan Pope
Tommy Phelps
Brandon Laird
Christian Garcia
Austin Romine
DJ Mitchell
Josh Schmidt
He's also got a pretty good recap of the entire media day here
That was yesterday and we know Ashmore never rests, so today, he posted rundowns on the Thunder's pitching and positional players.
So keep yourself busy for a while by checking out those links.
Remember, like Ashmore, we never let up with Yankees coverage. Be sure to check back with Bronx Baseball Daily later for more.
Related Stories
Read more New York Yankees news on BleacherReport.com