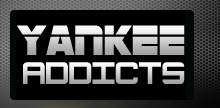 June 15, 2009 · Harold Friend · Jump to comments
Article Source: Bleacher Report - New York Yankees
In 1959, Mickey Mantle batted .285 with 31 home runs and 75 RBI. Mickey admitted that it had been a lack luster season for him.
"It wouldn't surprise me if the Yankee management traded me to another club this winter. It was my worst overall year in baseball…"
Mickey Mantle's Steady Decline
General Manger George Weiss responded.
"It has been my experience that just because a player has an off year it doesn't mean he can't come back with a good one. Especially if he is young and has the potentials of a Mantle."
When spring training started, Mantle was regarded as a question mark. Baseball writers wondered if he could bounce back at the age of 28.
"But the indisputable fact remains that ever since his big year in 1956 he has been receding steadily."
1959 is Considered a Solid Season
Fifty years later, Mickey Mantle's poor 1959 season is considered a solid season.
Were Mickey, George Weiss, the writers, and the fans wrong? Are those who evaluate a player's season using statistics that either did not exist, were not emphasized, or ignored 50 years ago more expert?
Mickey Mantle Knew
Mickey Mantle knew what kind of season he was having.
He led the league with 37 home runs in 1955 and with 52 home runs in 1956 when he won the Triple Crown.
In 1957, which today many consider to have been better than 1956, shin splints limited his home run total to 34, and in 1958, Mickey again led the league, this time with 42 home runs.
That is why 31 home runs were considered low.
George Weiss tried to pay Mickey as little money as possible, so he had a reason to underrate Mickey's season, but the baseball writers and the fans had no vested interests.
Weiss knew baseball, and he was wise enough to not consider trading Mickey, but the Yankees had finished in third place, 15 games behind the White Sox, and their leader had a bad year. So did their pitching staff.
Why it was a Poor Season
In 1959, batting .285 was nothing special, but striking out 126 times was a disgrace. Unlike today, everyone knew that a strikeout is not just another out.
Numbers cannot convey the frustration produced when Mickey failed to get a runner home from third with less than two outs.
He came to the plate 24 times with a runner on third and less than two outs, and the runner scored 10 times.
As a comparison, Roger Maris, then with the A's, batted with a runner on third 29 times and 19 times he got the runner home.
Statistics Changed the Views
Mickey Mantle finished sixth in on base percentage (.390), third in slugging average (.514), and second in on base + slugging (.904).
Because the Yankees struggled most of the season, Mickey attempted more stolen bases than usual. He finished second with 21 steals in 24 attempts.
It must be recognized that the 1959 American League was a weak league, but Mickey's "worst overall year in baseball" seems pretty good today.
Two Significant Measurements
Two statistics have improved Mickey's 1959 season.
His .390 on base average, which was an afterthought in 1959, has become more significant than his .285 batting average.
Slugging + on base average also has evolved into an important measurement. Mickey's was second only to Al Kaline's .940.
Mickey Topped the American League
American League hitters averaged .256, had a .326 on base average, a .391 slugging average, and a .717 on base +slugging average, numbers that Mantle easily exceeded.
When viewed in the context of Mickey Mantle's 1959 season compared to other American Leaguers, it doesn't seem so bad, but one must be careful before considering it a good season, because it was not.
References:
By JOHN DREBINGER. (1959, October 29). Mantle's Job Secure :Weiss of Yanks Says One Poor Season Doesn't Mean a Player Is Through. New York Times (1857-Current file),p. 41. Retrieved June 15, 2009, from ProQuest Historical Newspapers The New York Times (1851 – 2005) database. (Document ID: 82716152).
By JOHN DREBINGERSpecial to The New York Times.. (1960, March 7). FORD AND MANTLE WORRY MANAGER :Yanks, Preparing for First Exhibition Saturday, Also Troubled by Weather. New York Times (1857-Current file),p. 33. Retrieved June 15, 2009, from ProQuest Historical Newspapers The New York Times (1851 – 2005) database. (Document ID: 105183221).
Mickey Mantle at Baseball-Reference
1959 Situational Batting at Baseball-Reference