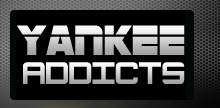 February 20, 2010 · Harold Friend · Jump to comments
Article Source: Bleacher Report - New York Yankees
Jo Bydin was a young baseball fan when the Yankees 18-game winning streak was broken by the St. Louis Browns on June 16, 1953.
Jo rooted for the New York Giants, and any day that the Yankees lost was a good day for Jo Bydin.
The St. Louis Browns
The New York Yankees had high hopes of becoming contenders in 1966 after their disastrous sixth place finish the previous season.
The veterans were relaxed during spring training, confident that the first Yankees' team to finish below .500 since 1925 would bounce back with a vengeance.
After a meaningless exhibition game at Ft. Lauderdale, a reporter brought up the fact that Whitey Ford was the only active pitcher who had a win-loss record against the old St. Louis Browns, the team that became the Baltimore Orioles in 1954.
Whitey had won five of his six decisions against the Browns. The reporter asked Whitey what he remembered about them.
Poor Recall
Whitey Ford was a winner, but it turns out that he had a bad memory.
"I remember the defeat, and how I remember it. It was in 1953.
"We had won 18 in a row, finishing up with a road trip. Now we were opening up a home stand, and the Browns had lost 14 in a row. We were first and they were last.
"I started against Duane Pillette. I figured it would be easy.
"But he was beating me, 2-0 before we scored. Then Satchel Paige relieved, with the score 2-1, and he held us. And you know what happened?
"Mickey Mantle tried to bunt with two out and two strikes on him in the bottom of the ninth and fouled it back to the screen and was the final out."
Mickey Mantle recalled the game played 13 years ago.
"I remember doing it, but I probably had a good reason. Well, look, I knew I couldn't hit Paige, but I knew that if I could poke it past him, I could beat him to first base."
Mantle Cost Ford the Game?
Ford didn't buy it.
"You cost me the game with that dumb play. If you hit a home run and tied it up, I would have been undefeated by the St. Louis Browns for the rest of my life."
"I wasn't a home run hitter in those days," insisted Mickey, who finished the 1953 season hitting .295 with 21 home runs.
"Look it up. I was batting first or second. If I got on, I figured Yogi or somebody might drive me in."
Well, I looked it up. I remember that game, although I didn't watch or listen to it.
It was about 4 o'clock. My parents, my brother, and I were shopping on Union Turnpike in Queens, right near a group of stores near the Utopia Theater. We crossed the street and went into a clothing store where the radio was playing.
I heard Mel Allen tell us the Yankees' 18-game winning streak was over. The Browns had won, 3-1.
If there had been high-fives in those days, I would have given one to my father. We merely smiled at each other.
Whitey Ford and Mickey Mantle illustrated why witness reports are often unreliable.
The facts are that the Browns scored a run off Ford in the second inning, and in the fifth inning, Vic Wertz hit a two-run home run for a 3-0 St. Louis lead.
The Yankees scored their only run in the bottom of the fifth when Johnny Mize, pinch-hitting for Phil Rizzuto, singled home Gene Woodling.
Mantle didn't bat in the bottom of the ninth with two outs. He led off the inning, and bunting for a hit was a good play.
If he reached first, the Yankees would have the potential tying run at the plate with no outs, but he struck out and Yogi grounded out.
Gene Woodling singled to keep the game alive, but Gil McDougald, not Mickey Mantle, made the last out.
Guess who batted clean-up that game. Yes, it was Mickey Mantle.
Ford had been taken out of the game after pitching only five innings. The Yankees' little gamecock gave up all three Brownies runs.
If the Yankees had managed to pull out the game in the ninth inning, Tom Gorman would have been the winning pitcher.
The passage of time often changes what individuals remember. There is no question that Mickey attempted to bunt against Paige in the ninth inning, but the events that he and Ford described 13 years later were not quite the events that occurred.
Third base coach Frank Crosetti recalled one fact that was accurate.
"I can remember that we won 18 and then lost nine, and that Whitey had pitched that game, but not the details."
We all recall events in our lives, some more graphically than others, but sometimes, what we recall and what really happened differ.
References:
By LEONARD KOPPETT Special to The New York Times . (1966, March 15). Anatomy of a Defeat: Ford Recalls a Yankee Loss to Browns That Mantle Would Just as Soon Forget. New York Times (1923-Current file),45. Retrieved February 20, 2010, from ProQuest Historical Newspapers The New York Times (1851 – 2006). (Document ID: 79974118).
Browns at Yankees June 16, 1953 at Retrosheet
Read more New York Yankees news on BleacherReport.com