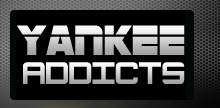 May 8, 2009 · Harold Friend · Jump to comments
Article Source: Bleacher Report - New York Yankees
Mickey Mantle's first full season was 1952. Mantle batted .311, hit 23 home runs, and had 87 RBI. Yankees' manager Casey Stengel, who felt that Mickey would be the crown jewel of his managerial career, was discussing his young switch-hitter with reporters.
Mickey Was "Tree-mendous"
"If that kid hit only right-handed, he'd be tree-mendous. If he only hit left-handed, he'd be tree-mendous. But since he does his hittin' both ways, he's just tree-mendous."
Mickey was only 20 years old in 1952 and seemingly had unlimited potential. Although 23 home runs is not a high number today, in 1952, Larry Doby led the league with 32 home runs, and Mickey's 23 tied with Vic Wertz for seventh.
Mickey's .311 average was third best, while his 87 RBIs was eighth best. The major problem that many believed could cost Mickey dearly were his 111 strikeouts.
Casey Stengel's Praise
Mickey made baseball people dream.
"He kin drag bunt with two strikes on him. The distances he kin hit a ball, hittin' with power to all fields.
I saw him belt one right-handed into the upper right field tier in Detroit. He hit one left-handed over the center field wall in … wait a minute. Rizzuto was on base at the time and he kin tell you."
Stengel called over Phil Rizzuto.
Mickey's Home Run Awed Phil Rizzuto
"Holy gee, Case," said Rizzuto, with awe in his voice. "I never saw a ball hit so hard. I even stopped to look at it and that's something I never did before.
Oh boy, the Mick sure can ride the ball." Phil was on base when Mickey hit the home run, and base runners ran the bases. They didn't stop to admire long drives.
Modest Mickey Mantle
The conversation embarrassed Mickey, who excused himself to go into the batting cage. The fact that veteran baseball men predict that he is destined to become of the game's greatest stars bewilders him.
New York Times baseball columnist Arthur Daley wrote that the fellow least impressed by Mickey Mantle is Mickey Mantle. He said that at his first spring training with the Yankees, he felt that he should be asking the Yankees' players for their autographs.
Mickey Mantle's Worst Baseball Day
Mickey has often said that opening day at Yankee Stadium in 1951 was the worst day of his baseball career.
"I don't think I slept a wink the night before and I was trembling all over from the moment I reached the Yankee Stadium. I did get a hit that drove in a run, but I was so scared that I shut my eyes and swung."
When asked about the World Series later that season, Mickey said that after opening day, the World Series opener didn't bother him.
Strikeouts Today
Young Mickey Mantle knew he still was green. "Gee, but I have so much to learn. I know that I hit .311 last year, but I struck out too much."
How things have changed. In 2008, Mark Reynolds set a single season record with an incredible 204 strikeouts. Reynolds batted .239 with 28 home runs.
Mark Reynolds is not a star and comparing him to Mickey Mantle as a hitter is ridiculous, but Ryan Howard is a star who already has hit more home runs in a season than Mickey ever hit.
In 2006, Ryan Howard hit 58 home runs, which is four more than Mickey's best total of 54. Howard struck out 181 times that season.
When Mickey hit 54 in 1961, he had 112 strikeouts. Ryan Howard set the strikeout record with 199 in 2007, and matched that total in 2008, when Mark Reynolds set his record.
Mickey's Increased Stature Today
One reason Mickey Mantle's stature as a player has increased with the passage of time is that when he played, striking out was a disgrace that good hitters tried to minimize.
Even Babe Ruth never struck out 100 times in a season, but today, strikeouts are viewed, quite inaccurately, as just another out. Managers and fans have no problem accepting strikeouts for the occasional reward of a home run.
They evaluate Mickey Mantle's record and view his 1710 career strikeouts as the price for his 536 home runs.
Mickey Mantle was the fastest player in the game in 1952. He had tremendous power, a great arm (until he was injured in the 1957 World Series), and in 1957, he reached base more times than he made out.
Despite his injuries, Mickey Mantle did become Casey Stengel's jewel.
References
By ARTHUR DALEY. (1953, March 24). Sports of The Times : Tree-mendous!" Says Casey. New York Times (1857-Current file),39. Retrieved May 8, 2009, from ProQuest Historical Newspapers The New York Times (1851 – 2005) database. (Document ID: 93401125).