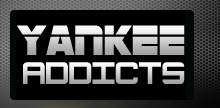 October 17, 2011 · Harold Friend · Jump to comments
Article Source: Bleacher Report - New York Yankees
Mickey Mantle "arrived" in 1956 when he won the Triple Crown, but the truth is that he really "arrived" when his contemporaries praised his achievements rather than his potential.
Ted Williams was one of the greatest hitters of all time. Mantle at his peak barely approached Williams as a hitter, but Williams knew how good Mantle had become.
When asked if Mantle had a chance to bat .400, Williams didn't hesitate.
"Absolutely. Mickey has everything going for him. He has the speed to beat out bunts, so they can't play him too deep, and the power to drive it past them if they creep in on him. He hits both ways so you can't play him in any particular field," he said.
Casey Stengel agreed.
"Williams is right," Stengel told reporters. "This boy has the chance to be a .400 hitter, especially when he has fellas behind him which will help him."
Joe DiMaggio, who was the MVP the year Williams hit .406, concurred.
"Mickey has grown up," observed DiMaggio. "It takes some players longer to arrive than others. He has learned to pick out the ball he wants to hit. His real test will come when he goes 4-for-0 a couple games in a row."
Bill Dickey, one of the greatest of all catchers and a teammate of DiMaggio, was as impressed with Mantle as the others.
"Mickey has strong wrists, powerful forearms and a back that a heavyweight champion wouldn't be ashamed of," Dickey told baseball writer Tom Meany.
Many fans that never saw Mantle play wonder why he didn't steal more bases, since he was one of the fastest runners in baseball history. Stengel explained it quite easily.
"With all his speed, you would think now he would steal more bases, wouldn't you? There isn't any sense in stealing when you have fellas which can hit the ball out of the park," Stengel said. "You don't have to steal with Mantle, because you've seen him go from first to third, and from first to home too, as far as that's concerned, which he does faster than anybody playing ball today."
Stengel continued, explaining how amazing it was that Mantle was so great despite his bad legs.
"Thing too many people overlook about him," said Stengel, "is that he's been doing all that he has been doing this year as a cripple. He still hasta have his right leg bandaged before every game. And that knee he had operated on a few years ago, after he fell over like he was dead in the World Series, still bothers him."
Mantle had a mediocre rookie season in 1951, but to show how much was expected from him, one can examine his 1952-55 seasons.
He batted .303/. 408/. 542, averaging 32 home runs and 110 RBIs over a 162 game season. He led the league with 37 home runs in 1955 and in runs scored in 1954, but he didn't become "Mickey Mantle" until 1956.
Mantle was appreciated even more when Roger Maris arrived, and the two of them carried out their assault on Babe Ruth's single season home run record. Fans stopped booing Mantle and went to work on Roger. It was unfair, but indirectly, it helped Mantle.
Reference:
Meany, Tom. "Casey Stengel Tells Inside About Mickey Mantle." Baseball Digest. Oct. 1956. P.41.
Read more New York Yankees news on BleacherReport.com