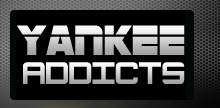 November 3, 2011 · Harold Friend · Jump to comments
Article Source: Bleacher Report - New York Yankees
The Yankees discovered what it was to struggle in 1965. Aging stars, injuries and a lack of young players resulted in the end of the streak of five consecutive pennants that had started in 1960.
Mickey Mantle had his first poor season since his rookie year of 1951, but he and the team never stopped trying.
On June 22, the Yankees were in seventh place with a record of 29-35, trailing the first place Minnesota Twins by 10 and a half games.
In the first game of a doubleheader at the real, genuine Yankee Stadium against their cousins from Kansas City, the Athletics, 13,129 fans paid their way in with the hope that the their team would get started.
The Yankees dropped the opener, 6-2, despite a Mickey Mantle home run. In the nightcap, with the A's leading 2-0, Mickey led off the fourth inning with a walk and went to second when Tommy Tresh was safe on shortstop Bert Campaneris' error.
After Ellie Howard flied out to right, Kansas City right-hander Fred Talbot made a wild pitch. Mickey, hustling too much, tried to score from second and was thrown out at the plate, but that was not what hurt the Yankees.
Mickey pulled a muscle in his left leg, which team physician Dr. Sydney Gaynor thought was just a strain. But this was Mickey Mantle and it turned out that the injury was a pulled hamstring muscle.
By the middle of July, it was apparent that the Yankees were not going to win the pennant. They had to rebuild and many in the media felt that Mickey might never again have a Mickey Mantle type season because he had been too banged up for too long.
The problem was a Catch-22 because the injured legs prevented Mickey from exercising in such ways that would prevent future injuries. It was thought that he would play two or three more years, but that anything he contributed would be a bonus. The Yankees had to rebuild as if he were not on the roster.
Mickey had some good days left.
On September 2, in Anaheim, he drove in four runs with a home run and single as Whitey Ford went the distance in beating Marcellino Lopez, 8-1.
Bobby Richardson led off the game with a single and Tommy Tresh doubled him to third, bringing up left fielder Mickey Mantle. There was no thought of intentionally walking Mantle, who made the Angels pay when he hit a 400-foot home run.
The 1965 Yankees finished sixth, winning 77 and losing 85 to finish 25 games behind the Twins in the 10 team American League.
After four consecutive seasons in which he had hit over .300, Mickey dropped to .255 with 19 home runs and 46 RBIs in 122 games. He had only 361 at bats.
Mickey Mantle never stopped trying or caring, but at the age of 33, the end was approaching.
References:
Beckers, Bill. "Ford of Yankees Beats Angels, 8-1; Mantle Drives in Four Runs With Homer and Single. New York Times. 3 September 1965, p.20.
Durso, Joseph. "Mantle Injured in Second Game But Pulled Muscle in Leg Doesn't Appear Serious." New York Times. 23 June 1965, p. 31.
Koppett, Leonard. "Long, Cold Summer; Yankees Learn How Other Half Lives." New York Times. 13 July 1965, p. 26.
Read more New York Yankees news on BleacherReport.com