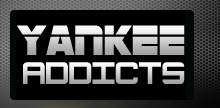 October 18, 2011 · Harold Friend · Jump to comments
Article Source: Bleacher Report - New York Yankees
Mickey Mantle had a spectacular spring training in 1951, but there was a cloud on the horizon that had little to do with his ability.
The United States and the United Nations were involved in the Korean War. In 1950, men between the ages of 18 and a half and 35 were being drafted for terms of duty that averaged about two years.
While playing high school football, Mantle was kicked in the left ankle. An infection developed which resulted in chronic osteomyelitis. Mantle was classified 4-F the first time he was examined, but his draft board decided to re-examine him.
Before his pre-induction physical, Mantle was extremely upbeat with respect to defending the freedoms that had made American unique. He told reporters that he wouldn't mind going into the army if his leg were okay. He considered service as a duty he was obligated to perform.
"I hope they find out that it is good," he said, referring to his leg.
"I'll play baseball for the army or fight for it, whatever they want me to do, but if I don't go into the army, I want to play baseball."
A few days later, on Apr. 13, 1951, the draft board informed Mantle that he was physically unqualified for military duty. The board stated that it was forbidden to disclose the defect that disqualified him, but it was generally believed that the osteomyelitis was the reason.
Tom Greenwade, the scout who signed Mantle to a New York Yankees contract, expressed the hope that the public would be satisfied that Mantle would have served willingly but that it had been the army that decided it couldn't use his services.
"We are satisfied," Greenwade said, "that the boy was ready to enter military service, if found acceptable."
Mantle had been examined twice and he "struck out" each time, so it was back to baseball for Mickey.
The Yankees were scheduled to open the 1951 season in Washington, but rain forced the game to be postponed. They opened at home on Apr. 17 at Yankee Stadium against the Boston Red Sox. Mantle batted third and played right field.
Before the game, Mantle was awed by all the attention he was receiving. He became extremely embarrassed when photographers asked him to pose for a picture with Joe DiMaggio and Ted Williams. His uncertain walk to the all-time greats indicated that he felt as if he were an intruder.
DiMaggio and Williams were completely at ease.
"Hello, Joe," said a grinning Williams as they shook hands. Mantle stood next to them, nervously shifting his weight from one foot to the other. DiMaggio actually neglected to introduce Mantle to Williams.
Ted took charge. He stuck out his hand to the rookie and said, "You must be Mick," as the two shook hands.
Left-hander Bill Wight started for the Red Sox against Vic Raschi. In the first inning, Mantle batted for the first time at Yankee Stadium. He grounded out to second baseman Bobby Doerr.
Mantle ended the third inning with an easy pop up to third baseman Vern Stephens, but in the sixth, with Jackie Jensen on third and Phil Rizzuto on first, Mickey laced a single into left field to score Jensen.
In the eighth inning, still batting from the right side and this time against Mickey McDermott, Mantle hit an easy fly ball to right field. He finished his first major league game with one hit in four at-bats, an RBI and a run scored.
Raschi pitched a six-hit shutout in an easy 5-0 Yankees' win.
Mantle never went into the army but public pressure resulted in one more examination in 1952. Mantle was again rejected, but this time the major problem was the knee that he injured in the 1951 World Series. It was the "third strike."
Through no fault of his own, Mantle would never in the army.
References:
Sports of the times. (1951, Apr 08). New York Times (1923-Current File), pp. 160. Retrieved from http://search.proquest.com/docview/112015105?accountid=46260
Shortstop is fit, specialist finds. (1951, Apr 12). New York Times (1923-Current File), pp. 51. Retrieved from http://search.proquest.com/docview/112013814?accountid=46260
Mantle, rejected for army duty, flying to rejoin bombers today. (1951, Apr 14). New York Times (1923-Current File), pp. 24. Retrieved from http://search.proquest.com/docview/112022799?accountid=46260
Sports of the times. (1951, Apr 18). New York Times (1923-Current File), pp. 53. Retrieved from http://search.proquest.com/docview/111995229?accountid=46260
Read more New York Yankees news on BleacherReport.com