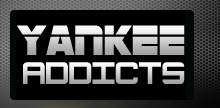 December 17, 2012 · Zachary D. Rymer · Jump to comments
Article Source: Bleacher Report - New York Yankees
The New York Yankees have been busy handing out short-term contracts this winter, but they're going to have to be more bold if they want to re-establish themselves as the dominant power in the AL East.
How about Michael Bourn?
The Yankees already have a pretty good center fielder in Curtis Granderson, and Brett Gardner has the skills to be a quality center fielder as well. Nonetheless, Nick Cafardo of The Boston Globe hears that the Yankees are "quietly interested" in Bourn and that they could pounce if his price comes down.
Since Bourn is represented by Scott Boras, that's unlikely to happen. Besides which, the Yankees would presumably have to give Bourn a multi-year contract, and they seem intent on avoiding those at all costs with their payroll set to take a dive in 2014.
Nonetheless, this is a possibility that can't be ruled out, if for no other reason than the fact that the Yankees have been way too quiet this winter. They have to be up to something.
It could be that Bourn is indeed at the heart of their master plan. He's one of the best remaining free agents on a market that is growing thinner by the day, and Cafardo is correct in noting that Bourn would be the true leadoff hitter that the Yankees have needed for a while now.
Bourn doesn't have any power and he's never hit over .300, but he's developed into a decent on-base guy over the last couple years. His OBP has been up over .340 each of the last three years, and he's coming off a 2012 season in which he posted a career-high walk rate (see FanGraphs).
Bourn compares favorably to Derek Jeter, who served as Joe Girardi's primary leadoff man in 2012, in terms of their respective abilities to get on base. Jeter is a better pure hitter with a higher career OBP, but his .352 OBP over the last three years is roughly equivalent to Bourn's .346 OBP over the last three years.
What Jeter doesn't have that Bourn has in spades is speed. Bourn has stolen at least 40 bases in each of the last five seasons, and he leads all major leaguers in steals since 2008 by a wide margin.
In part due to Gardner's lengthy absence, the Yankees were short on stolen bases in 2012. The problem was particularly bad in regards to their leadoff spot, as Yankees leadoff men stole only 11 bases. Only Reds leadoff men—who couldn't get on base to save their lives—produced fewer steals.
Bourn's ability to wreak havoc on the basepaths isn't limited to his ability to steal bases. According to FanGraphs, Bourn ranks second among all major leaguers since 2008 in Ultimate Base Running—a stat that quantifies a player's ability to go from first to third, to stay out of double players and so on. Bourn is a smart baserunner in addition to a fast base runner.
To be sure, Bourn would do nothing to replace the power that the Yankees have lost this offseason with Russell Martin gone and Nick Swisher highly unlikely to re-sign. He has a career slugging percentage of .365, and he's still looking for his first 10-homer season (he came close in 2012).
But with Bourn at the top of their lineup and Jeter in the No. 2 hole, the Yankees would suddenly have the offensive versatility that they didn't have in 2012. Their offense would be about more than just the long ball, which could help their total offensive output remain steady from 2012 to 2013.
Bourn could further help the Yankees on defense, as he's one of the game's very best defensive center fielders. Per FanGraphs, Bourn led all center fielders in UZR and Defensive Runs Saved in 2012. He'd be a huge upgrade in center over Granderson, who rated as one of the worst defenders in the league.
If Bourn is signed, Granderson could be moved to left field, where his defensive performance would likely level out. With him in left, Bourn in center and Ichiro and right, the Yankees would have one of the better defensive outfields in baseball. Their pitchers wouldn't utter a word of complaint.
…But this is assuming that the Yankees wouldn't trade Granderson immediately after signing Bourn.
Exactly how "on the block" Granderson really is is anybody's guess, but Andrew Marchand of ESPNNewYork.com reported earlier this month that the Yankees are willing to listen to offers for him.
Even without the context of a potential Bourn signing, it would be hard enough for the Yankees to trade Granderson now. The price for him is going to be high due to his 40-homer power, but teams may not be interested in paying the price due to the limitations Granderson has beyond his power. He's not a good defender, and he strikes out way too much to be an effective on-base guy.
Plus, there's the complication of Granderson's contract status. He's owed $15 million in 2013, a dollar amount that only so many teams can afford. The Yankees may have to eat some of it in order to get what they want in a trade, and even then, clubs could be hesitant because Granderson is due to hit free agency after the 2013 season is over.
Making matters even more complicated is the fact that the demand for center fielders has largely dried up. Several prominent center fielders have signed, and the Minnesota Twins have traded two center fielders to needy teams.
This is not to say that the Yankees wouldn't be able to find a taker for Granderson if they were to sign Bourn. Where there's a will, there's a way, and the simple truth is that outfielders with as much power as Granderson are bound to at least get a few nibbles upon landing on the trade block.
But if the Yankees were to dangle Gardner instead…
If the Yankees sign Bourn, they could turn around and market Gardner to the teams that missed out on signing Bourn for themselves. He's a lot like Bourn, as his career OBP is right along the lines of Bourn's OBP over the last three seasons, and he uses his tremendous speed to provide value on the basepaths and in the outfield.
If the teams that miss out on Bourn get in on Gardner, the Yankees could do something with him that they may have a hard time doing with Granderson, and that's create a bidding war. Teams could be jockeying for Gardner's Bourn-like skills, and they may be willing to escalate their offers because Gardner wouldn't be a rental. He's due to hit free agency in 2015, and for now, he's very cheap.
If the Yankees were to trade Granderson rather than Gardner, they could keep Gardner in left field and have an absolutely insane defensive outfield. The trade-off is that they'd be losing a lot of power from a lineup that has already lost enough, and the combined speed of Bourn and Gardner would only be able to account for so much of it.
If the Yankees were to trade Gardner rather than Granderson, they could move Granderson to left field and station him lower in their batting order. They'd be in a position to be one of the only teams in the majors looking to get 40 homers from their No. 6/7 hitter.
Where things would get complicated, of course, is after the 2013 season.
If the Yankees sign Bourn to a multi-year deal, Granderson will be a goner after 2013. The Yankees would likely have to pay Granderson at least $15 million per year to keep him, and that's not going to happen if they're already paying Bourn in the neighborhood of $15 million per year.
The Yankees surely could keep Bourn and Granderson if they wish, as they have about $80 million set to come off the books next winter. What payroll space they're set to have, however, is more likely to be used to keep Robinson Cano than to keep Granderson.
It's already unlikely that Granderson's tenure with the Yankees will last beyond 2013. If they sign Bourn, the club would plan on making Granderson a qualifying offer and then bidding him adieu.
But between now and then, the Yankees would be able to look forward to having a lineup with versatility at the top and power at the bottom. They'd also have a good-looking outfield that their pitchers would be very thankful for.
They'd also have the other teams in the AL East saying, "Oh, right. Them."
Note: Stats courtesy of Baseball-Reference.com unless otherwise noted. Salary and payroll information courtesy of Cot's Baseball Contracts.
If you want to talk baseball, hit me up on Twitter.
Read more New York Yankees news on BleacherReport.com