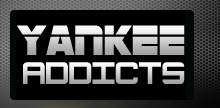 April 28, 2009 · Nick Poust · Jump to comments
Article Source: Bleacher Report - New York Yankees
The baseball gods are punishing both the New York Mets and New York Yankees. I suppose they have good reason to: They opened new stadiums this season.
Shea Stadium and Yankees Stadium were hallowed sanctuaries, boasting countless priceless memories, but they no longer exist. Instead, the $850-million Citi Field and $1.6-billion new Yankees Stadium stand in their places.
So perhaps it's just that the deities of sport seek to curse the franchises for their exorbitant spending on the new venues and willingness to tear down such memorable monuments.
The Mets are currently 9-10 and tied for fourth in the National League East. Recently, they won two out of three against the Washington Nationals and took the opener of their series with the Florida Marlins, but it doesn't appear that consistent success is on the horizon.
Their outfield is horrible defensively; the combined five errors committed by Daniel Murphy, Carlos Beltran, and Gary Sheffield do not begin to tell the story. On top of that, their pitching has been woeful and their offense stagnant.
Johan Santana, with three wins and a 0.70 ERA, is the only sure thing in the rotation, but that is the only positive the rotation can boast. Oliver Perez, who was signed to a regrettable three-year, $36-million contract this past offseason, has a 1-2 record in four starts, has allowed a 20 earned runs in 19 innings pitched, and has walked 15 batters while relinquishing 23 hits.
That's good for a 9.31 ERA.
John Maine has been similarly ineffective and holds the same record as Perez. His ERA is smaller, 5.40, but he needed six innings of one-hit, one-run ball to lower it to that level. There's little hope for the future of this staff.
Shea was a hitter-friendly stadium; the likes of David Wright, Jose Reyes, Carlos Delgado, and Beltran took advantage of the favorable dimensions, making for a dynamic offense and a very successful home team (until September rolled around, of course).
The same players remain on the roster, but Citi Field is apparently where homers go to die. The Mets lineup, in 10 home games, have clubbed just seven yardballs. The lack of power is cause for concern, as their pitchers aren't going to keep them in games, so a consistent offense is vital at home.
The Yankees, meanwhile, have had the exact opposite problem: too many homers are hit. Balls have been flying out of the new stadium, especially to right field, where a stiff wind blows out, allowing flyouts to clear the fence.
Though New York has benefitted as well as their opponents from this natural phenomenon—they have hit 14 homers at home, to the opponents 12—the alarming rate at which balls are leaving has made their management sweat profusely. Counting the final two exhibition games, 25 homers were hit in a five-game span.
It has been said that the Stadium is configured such that there is a "wind tunnel" of sorts, which funnels the ball into the seats with regularity. So if it's a home run derby in April, what will it be like when the season progresses into the heat of summer, when the humidity level rises and temperature increases into the high 90s?
Though opposing hitters' eyes light up once they look into the right-field bleachers, the Yankees pitchers are still serving up balls to be hit. CC Sabathia has allowed only one homer at home, but that's been the only bright spot of the beginning of his debut season in the Apple.
According to his contract details, he has made $3.28 million so far during his five starts, and only has one win to show for it. Like Perez and Maine, Sabathia has two losses and equally unexceptional statistics: He has a mediocre 4.73 ERA and, though he has thrown the most innings on the staff, has allowed 17 runs and 14 walks in 32 innings pitched. Fans, brass, and coaches hope their ace rights the ship, but so far it's been far from smooth sailing for the $180-million man.
The rest of the rotation, with the exception of Andy Pettitte, has been as paltry: Chien Ming-Wang, a former two-time 19-game winner, is trying to figure out his mechanics after giving up an unheard-of 23 runs in only six innings over his three starts; the mismanaged Joba Chamberlain has an ERA under 4.00 but has been very inconsistent and winless so far; and A.J. Burnett pitched well in his first two starts, but has turned into the pitcher I hoped he would, as his ERA skyrocketed to 5.47 after the Boston Red Sox torched him to the tune of eight earned runs in an eventual 16-11 loss.
Both franchises are off to slow starts and show no signs of life. The baseball gods are forcing them into a world of hurt, and rightfully so.