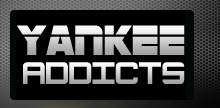 April 24, 2010 · Bronx Baseball Daily · Jump to comments
Article Source: Bleacher Report - New York Yankees
The Yankees lost in heartbreaking fashion last night as Joba Chamberlain gave up an eighth inning two-run home run that put the Angels ahead for good 6-4. It was, like all games against the Angels, very tough and hard fought.
As far as some of the Angels are concerned it was a little too hard fought. I'm talking about a third inning collision between Yankees first baseman Mark Teixeira and Angels' backup catcher Bobby Wilson, who was playing in just his second game of the season.
What happened was, with Teixeira on second, Robinson Cano slapped a single to shallow right, Bobby Abreu got the ball in from right and an error made it a very close play at the plate, with Jorge Posada signaling for Teixeira to slide, he did one better—took out the catcher. The problem was that some of the Angels said it was unnecessary and thought it might have been retaliation for Teixeira getting hit by a pitch earlier in the inning.
"He gave him the plate. You can either slide there or take him out," Torii Hunter said. "I thought it was a little too early in the game to take him out. If he slides, he's safe regardless. I guess he was on a mission."
"It was (upsetting). He can score easily. I don't know," Ervin Santana said. "Maybe he's trying to hit us because I just hit him. The count was 1-1. I don't mean to hit him."
However, Teixeira saw things a little differently.
"As soon as I came around third I picked up (Jorge Posada) who was telling me to slide," Teixeira said. "It was going to be a close play. I saw he was on the plate, but I saw he didn't have the ball yet, so I started to get down and make my slide. As soon as he turned toward me, I figured he had the ball and in that instance, the only choice that I have is to lower my shoulder and try to knock the ball loose."
"Bobby is a great kid," Teixeira said. "Before the game, I told him, 'Best of luck this year.' I feel terrible that he got hurt, but it's not about trying to hurt him; it's about trying to knock the ball loose."
Despite the fact that the Yankees and Angels players saw things differently, both managers, who are both former catchers themselves, said that it just comes with the territory.
"No doubt about it, Mark's just trying to score," Angels manager Mike Scioscia said. "Clean play."
"Your job as a catcher is to block the plate and try to keep the run from scoring," Joe Girardi said. "Sometimes you get run over. I've had my nose broke, I've had my shoulder separated; it's all part of the game as a catcher."
Of course, Wilson didn't have the ball, even though he was blocking the plate, and he suffered a concussion and injured his ankle. It was a rough play and it is only natural that his teammates might suspect that something sinister happened. However, Teixeira is a former Angel and a stand-up player not known for playing dirty whatsoever. Realistically this was probably not intentional, but we won't know if the Angels truly believe that or not until he comes to bat this afternoon. Maybe they'll plunk him, maybe they won't.
We'll find out what happens this afternoon.
Related Stories
Read more New York Yankees news on BleacherReport.com