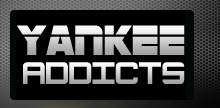 June 3, 2009 · Perry Arnold · Jump to comments
Article Source: Bleacher Report - New York Yankees
In the fourth inning of the New York Yankees 12-3 win over the Texas Rangers last night, the Rangers were leading 3-2.
Then Ranger starter, Vicente Padilla, hit Yankees' first baseman, Mark Teixeira, for the second time in the game.
After some angry words, Teixeira took first base. When Alex Rodriguez grounded to second, Teixeira slid hard into Ranger shortstop, Elvis Andrus, breaking up the double play and allowing a run to score.
That extended the inning, and the Yankees would go on to put up seven in the fourth to put the game out of reach.
But more importantly, Teixeira showed something to his Yankee teammates that may prove as valuable as his offensive prowess or his brilliant defense.
Teixeira showed he is a gamer; that he has spirit.
Teixeira played the game the way it is supposed to be played. He slid hard into Andrus at second base, but he did so within the rules of the game. He had his hands on the base as Andrus went heels over head into the infield dirt.
As Tex returned to the dugout, he was greeted by high fives from every Yankee on the bench.
And his teammates let him know how much they appreciated his hard play and also that they had his back.
Teixeira is proving to be one of the most valuable members of this team for many reasons.
Last night, he gave everyone one more reason to know just how great a player he is and how much he adds to the Yankees' organization.