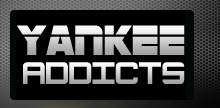 October 7, 2010 · Bronx Baseball Daily · Jump to comments
Article Source: Bleacher Report - New York Yankees
Many of us remember the game-winning, walk-off home run that Mark Teixeira launched in Game 2 of the 2009 ALDS against the Twins.
Many more of us are having trouble forgetting the rest of the 2009 playoffs, where Teixeira was practically a no-show. He had just a .180 batting average with a .593 OPS last postseason. He capped it off with a pathetic .136 hitting performance in the World Series that left many Yankee fans thankful for Alex Rodriguez and the clutch performances of Hideki Matsui.
This time around the Yankees need things to be different. They need Teixeira to come up big this October because A-Rod and Derek Jeter are far past their prime and Matsui and Johnny Damon are not here to provide a spark with their clutch hitting. Most of all they need him to have a big October because this pitching staff needs it a lot more this time around.
Lucky for all of us, he's off to a great start even though he's been dealing with pain in his hand that forced him to get a cortisone shot in the final weeks of the season.
Last night when Francisco Liriano looked unhittable, Teixeira doubled off him with one out in the sixth inning to start a four-run rally. When the Yankees gave that lead back, Teixeira drove a ball deep over the right field fence that barely stayed fair to put the Yankees ahead for good.
Now it's up to Teixeira to continue that for the rest of October. The Yankees have one win in the bag, but need 10 more to achieve their goal of winning back-to-back titles. He doesn't need to do it by himself every night, but it certainly would go a long way if he puts up numbers in October that he is capable of.
So far the story has been how bad the pitching staff could potentially be. That won't matter if Teixeira changes the story to how good he and the offense could be. Last night was a great start, but let's hope he redeems himself here.
Related Stories
Read more New York Yankees news on BleacherReport.com