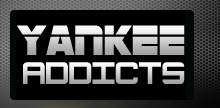 June 7, 2009 · Marisa Scolamiero · Jump to comments
Article Source: Bleacher Report - New York Yankees
For the better part of thirteen years, Mariano Rivera has been coming out of the bullpen for the Yankees and doing God-like things.
Mo has come through time after time in the clutch, using his signature cut-fastball to strike fear in the heart of major league hitters every where.
Yesterday against Tampa Bay, with the game tied at five in the ninth, Girardi went to his reliable closer, and instead of holding the tie, Mo blew the lead…big time. He actually had to be taken out of the game, something that is rarely seen when it comes to Rivera.
Of course it would be crazy to think that Rivera is exempt from failure. However, his failures have been far less than his triumphs.
Yankee fans try to block out the '97 ALDS when Victor Martinez got the better of Rivera, or the 2001 World Series when with two outs Rivera gave up the game winning bloop single that cost the Yankees their 27th World Championship.
Still, time after time, Rivera has come up big providing the Yankees with wins even in the most dire situations.
However, age catches up with everyone at some point, and it would seem that it might be gaining on Mo.
The closer is 39, and while many guys are playing well into their forties these days, at some point the body has to start to break down.
Rivera underwent surgery in the off season on his shoulder, and while he hasn't suffered any complications, he has admitted that he's still building up his arm strength.
That would explain why his velocity hasn't been where it usually is at this point of the season, and it also might explain why he hasn't been able to get his cutter to cut the way it usually does.
Yankee fans don't even enter into the realm of a time when Rivera won't be coming out of the bullpen, but the truth of the matter is, Rivera is a lot closer to his time being up than anything else.
It's almost unthinkable that anyone else could fill Mo's shoes. Yet, yesterday's performance served as a somewhat painful reminder that the Yankees and their fans may have to seriously start thinking about someone else coming out of the bullpen with the game on the line.
Hopefully the Sandman still has some dust left in his bag, but it would seem that he is starting to run out.