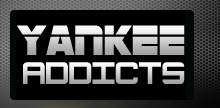 January 24, 2012 · Harold Friend · Jump to comments
Article Source: Bleacher Report - New York Yankees
In his last start at Columbus against the Rochester Red Wings. Mariano Rivera pitched a five-inning no-hitter. On July 4, 1995, he was the New York Yankees starter against the Chicago White Sox at Comiskey Park.
Rivera had a streak of 20.2 scoreless innings for the Columbus Clippers when he rejoined the parent club. In his previous stint with the Yankees, Rivera had compiled a 1-2 record with a 10.20 ERA.
In his minor league career, Rivera was primarily a starting pitcher.
He started 68 games, completed seven—which in 2012 seems remarkable—had a 27-18 record with a 2.35 ERA and a 1.027 WHIP.
Against the Chicago White Sox, Rivera pitched eight innings of shutout ball. He allowed two hits, both singles by Frank Thomas, walked four and struck out 11 batters.
"The scouting report we had said that he throws about 85 or 86," White Sox outfielder Dave Martinez said. "He was throwing a lot harder than that."
Even manager Buck Showalter was surprised by Rivera's performance. He hadn't expected the youngster to handle the Sox, a hot team at the time, so handily.
Showalter mentioned Rivera's excellent minor league record, stating "We'll see where it takes us."
There was little thought of making Rivera into anything but a starter.
In the seventh inning, Rivera was so dominant that the Chicago fans cheered him after he struck out Warren Newson, Ray Durham and Ron Karkovice.
Rivera was removed after eight innings because he had thrown 126 pitches. Imagine the Yankees allowing a young pitcher, or almost any pitcher other than C.C. Sabathia, throw 126 pitches.
Catcher Mike Stanley was enthusiastic in his praise of the Yankees' new starter.
"The makeup is there and he's got the confidence," Stanley said when asked whether Rivera had the repertory to be a star. "If he continues to be determined and aggressive, he'll get there."
Rivera wasn't among those that were surprised.
"I know I can pitch up here," Rivera said. "No doubt about it. They have to hit me. They didn't. It's not easy, but I did it. 'It's just another batter. It's just another hitter.' That's what I told myself. It worked."
This brings up the unanswerable question: How would baseball history have been changed if Rivera remained a starter?
The argument is that Rivera has been successful with one pitch for his career. He only works one inning a game most of the time, which prevents hitters from facing him more than once a game.
Does anyone think that hitters are dummies?
How many times has Rivera faced David Ortiz, Pudge Rodriguez, Bobby Abreu or Miguel Cabrera?
Ty Wigginton, a journeyman player, and Kevin Kouzmanoff explain it magnificently.
"You hear about the cutter and that's his pitch, but when you are in his division, when he's going to see you in six series a year, he will mix in a sinker that catches you off guard," Wigginton said.
"You go up against him and eliminate everything except the cutter and it still doesn't work, Kouzmanoff said. "He challenged you with that pitch and … you think the pitch is right there, you swing and it's not there anymore."
Read more New York Yankees news on BleacherReport.com