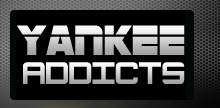 September 22, 2011 · Michael Moraitis · Jump to comments
Article Source: Bleacher Report - New York Yankees
When speaking of his success with the New York Yankees, Mariano Rivera attributes all of his greatness to God. It was God that made him great, it was God that gave him his cutter. Little do most people know, it was almost God that cut Rivera's career short.

It's impossible to think about where the Yankees would be without Rivera, the greatest closer ever to take the mound in the ninth inning. They certainly wouldn't have been better off. As impossible as it is to think about, retirement almost happened long before it should have.

After the 1999 season, there were rumors swirling that Mariano Rivera was contemplating retirement. Those rumors came about when Rivera reportedly told Yankee coaches he would only play four more years in the MLB.

So why would he even consider retirement?

At the time, Rivera had a strong passion to be a minister. It was never a secret that his faith in God was strong, but nobody had any idea how strong it truly was.

After the rumors began swirling in the media, Rivera would eventually back off his initial desires the next season and remain a Yankee until this day.

No pun intended, but thank God he did.

Of course Rivera went on to become the greatest closer of all time, recently breaking the saves record. It's an accomplishment that surely would have never happened had Rivera hung up his cleats like he planned.

There aren't too many things that are certain in this life, but Rivera's belief and love in God are strong.

Whether you agree with Rivera's beliefs or not, it doesn't matter what drives him as long as it gets the job done.
@michaelmoraitis
Read more New York Yankees news on BleacherReport.com