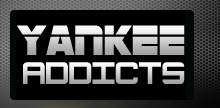 June 5, 2009 · Marisa Scolamiero · Jump to comments
Article Source: Bleacher Report - New York Yankees
It would appear that the guys running things at the Major League Baseball Commissioner's office are bored or are simply looking for new ways to irritate teams, owners, and fans.
The most recent atrocity committed by Bud's gang was the six game suspension issued to New York Yankees' pitcher A.J. Burnett for "throwing at" Nelson Cruz of the Rangers. While the pitch was definitely up and in, Burnett never actually plunked Cruz, yet he still got the suspension and was fined an undisclosed amount of money.
What makes this whole thing so ridiculous is that during that game, Rangers' pitcher Vincente Padilla hit Mark Teixeira twice, and was never issued a warning by the home plate umpire.
Padilla is known as being a head hunter, but more than that, he has a track record for plunking Teixeira. If he hit Teixeira once, it could be argued that the pitch got away from him, but twice? Not to mention the guy hitting behind Teixeira is Alex Rodriguez, and what pitcher in their right mind would want to put the guy in front of A-Rod on base?
Following Teixeira's second time of being beaned, Burnett threw up and in on Cruz, one of the Rangers' hottest hitters. It was then that the home plate umpire warned Burnett as well as both benches, and the rest of the game went on smoothly.
It seems that if anyone should have been given a suspension it should have been Padilla considering he actually hit someone twice. Burnett was simply showing that he had Teixeira's back without actually hitting someone.
It's naive to think that Padilla had no intention when he hit Teixeira. Teixeira has been one of the hottest hitters for the Yankees the past month, and with A-Rod regaining his stride after missing over a month due to hip surgery, Tex has been one of the best supporting bats in the lineup.
Teixeira revealed after the game, that in the first year of his career when he faced Padilla he hit two home runs off of him in his first two at-bats, and was hit in his third. When the two were teammates with Texas, Padilla would often hit opposing batters knowing that the opposing pitchers would go after Teixeira in retaliation.
Of course there are two sides to every story, and while Padilla hasn't said much since the incident, the facts seem to speak for themselves.
Yet Major League Baseball saw no reason to discipline Padilla, the pitcher that actually hit someone.
It definitely makes you scratch your head and wonder what those guys are doing in that office.
Perhaps they are talking about the monument they plan to enshrine to Bud Selig in Cooperstown for cracking down on the steroid issue. Maybe they're even fashioning their own plaques for being a part of the crusade.
Either way, it is clear that the people in charge of handing out disciplinary action in Major League Baseball have gotten it wrong yet again.
Seems like Bud and his gang would be better suited for something other than determining fair punishments. Maybe they should move to selling hot dogs at games since that requires a lot less thought with a smaller margin for error.
Then again, they may have trouble deciphering between sauerkraut and relish. It's very possible.