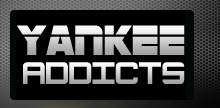 March 29, 2010 · Bronx Baseball Daily · Jump to comments
Article Source: Bleacher Report - New York Yankees
The good people over at Maple Street Press were nice enough to send me a free copy of this year's edition of their Yankees annual to review. If you are looking to pick up a Yankee-specific season preview magazine, I can't imagine finding a better one than this.
The Magazine : Maple Street Press: Yankees 2010 Annual
The Editor : Cecilia Tan
Rating : A must-read for someone looking for a Yankees season preview magazine, 4.5-out-of-5
Published by : Maple Street Press
This is a magazine that has a little bit of everything—A roster preview, detailed scouting reports on all of the starters, a look at Joe Girardi, stories about the current players from last year and the current season, how the farm system has paid off for the Yankees, a look at the captains throughout the years, some prospect stories, and a few on the history of the team. It's got great pictures throughout as well.
To me it's a perfect mix of past, present, and future Yankee stories which gives every Yankee fan something to read. I'm also a big fan of a lot of the writers like Pending Pinstripes' Greg Fertel, The Yankees U's EJ Fagan, Howard Megdal, and Joe McDonald,. The others are strong too.
I've read through the entire thing a couple of times now and I'm impressed with how much it really does cover all aspects of the team. I got this mag for free, but don't let that give you the impression that I'm being biased. If it needs to be covered, it's in here (except maybe an in depth look at the fifth starter battle, but when this magazine was published that really wasn't possible).
The rundown on how Joe Girardi evolved as a manager is in depth and spot on. There is a look at how Phil Hughes evolved into a shutdown reliever that was indispensable as the Yankees won the AL East in 2009. There is a look at the Yankees top 10 prospects that is up to date following a few offseason trades. I was also pleasantly surprised to see a look back at the Yankee career of recent Hall of Fame inductee Ricky Henderson.
It's only 128 pages long, but with no advertisements to get in the way, it's literally packed with great Yankee stories. The season is starting soon and this is expected to be on shelves until May 31, so go out and pick up a copy today.
Go here to order or check out the table of contents.
Most Commented Posts
Read more New York Yankees news on BleacherReport.com