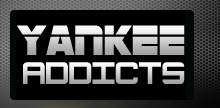 June 14, 2009 · Kate Conroy · Jump to comments
Article Source: Bleacher Report - New York Yankees
Anyone who is a sports fan knows how thrilling it is when your team wins. It's even better when your team has been predicted to just be lucky to survive the season by all the experts, but instead you are celebrating a Superbowl win.
I bet you guessed that I am referring to my NY Giants '07 season. It just proves that being the absolute underdogs (a 12 point spread) against a team with a perfect record of 17-0 does not guarantee anything.
Comparing the two quarterbacks before the last game of the season would have been pointless, but Eli Manning's potential to be great was obviously seen way before by the fans. Manning was beyond erratic the seasons prior, and I was so afraid of being embarrassed again in the playoffs.
Boy was I taken for a ride! Now, Eli is a favorite of mine, when previously I would give dirty looks to any Giants fan wearing his jersey. Eli is a force to reckoned with, and he earned it!
That win was also a huge part of Earth, Wind, and Fire: our amazing defense, top of the line offensive protection, a catch from a player who had four completions during the season, and a pre-shot wide receiver. I will never forget Feb. 3rd, 2007: it was my 31st birthday, and one of the greatest days to be a New York fan.
I guess what I am trying to grasp is the fact that fans get so down on a team that is supposed to be dominating! Regarding baseball, the highs and lows of the never-ending season is the hardest to grin and bear.
The Yankees of last season are a prime example. I was not surprised that the season was a mess, but even almost getting the wild card didn't feel right to me.
Now it is a new season, and my hopes are beyond high. I want to win it all, but I know the experience of not making it past the regular season is always in the back of my mind.
Football in general is easier to predict due to length of season. One injuries can be season ending, and usually the predictions preseason are not far from what unfolds. Also, notice in other sports that the head of the team is a "coach", and in baseball it is a "manager". Could it be that baseball is more erratic?
That's what I love to hate so much about baseball. I can't predict what team will get hot at the right time. Schedules and divisions vary in degrees of toughness, and every player unavoidably has off days.
Look at the Yankees' biggest problem: our pitching. I thought it had been solved with our new purchases. How frustrating it has been to witness Wang having a mental breakdown, Joba still not in the middle, CC finally doing better, and Petite being his usual; really good or really bad.
Seeing AJ fight through almost a HUGE disaster in today's final game against the Mets was mandatory, as he pitched poorly for a guy with his talent.
The bases were loaded with one out, and he went lights out on the next two Mets batters. Phew! At least something is going in the right direction for now.
You would think that the Mets were a sure win with Johan on the mound. My notion was that we had lost already before the game had actually started.
Hearing that Beckett was awful today was actually comforting. I had the suspicion that he was God reincarnated against the Yankees last week, but I guess Santana was on that same pedestal too. I was so sure that the Empire State Building was going to be Orange and Blue this week I almost puked.
Hey, when it rains it pours in the MLB. Just look at the win the Yankees were spoon-fed on Friday night. It might have been part of those "Joba Rules" I have heard so much about, but never actually seen.
Where is this post going? I don't even think I know, I'm just a fan trying to understand why I put myself in this situation. I am talking about analyzing games beforehand. In baseball, I should know better because anything can happen.
The NY Giants defied football odds, but I feel with the Yankees I am going through the same process every other week!
This is the reason why I love the game. The highs and lows of being a baseball fan are the greatest in sports, for me at least.
My mother reads a book at the stadium (no joke) because she complains the games are too long, but I think she is insane. She is not alone however, as many of my girlfriends simply do not like baseball because it's "boring". I always say that I wish they understood how it is nail biting, unpredictable, and competitive as a sport can get.
The NY Yankees, just like every other team, are struggling to make it work. When one thing is working the others seems to fall apart. Middle relief is such the focus of what makes a team good, and the highs and lows of this aspect alone is enough for me to be occupied for hours.
Basically, at this time of every season I start to give myself lectures on the highs and lows of the season. I try to convince myself why I need to relax, and that being more positive or more negative is not going to make the Yankees win more. Does it work? Absolutely NOT, but I wouldn't love this game so much if it ever did!
In regard to our finished series against the Mets this past weekend, all I can say is there is too much to say, and predictions get turned upside-down. I guess the best summary would be to say that it's baseball, and it never fails to make me fall in love with the game, over and over again!!!