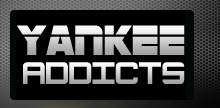 May 27, 2009 · Rebecca Glass · Jump to comments
Article Source: Bleacher Report - New York Yankees
The Yankees have not only picked up the pace in the last few weeks; they've moved into a tie for first in the AL East.
Let's take a look at how they got there.
Starting Pitching
This has probably been the greatest improvement. The Yankees are 12-4 in their last sixteen games; in only two of the losses did they allow more than five runs. In six games, the opposition has been held to two runs or less and in 12 games the opposition has been held to four runs or less.
It's a far cry from the 15-5 and 22-4 blowouts of April.
Let's take a closer look:
CC Sabathia: Has turned it on. He lost his last start to Philadelphia, but this has more to do with Hamels pitching well than him pitching poorly. He beat Baltimore and Toronto, allowing a grand total of three runs in those games, and perhaps most importantly, win or lose he always seems good to throw eight innings, which helps to save a really taxed bullpen.
Phil Hughes: Has decided he really wants to stay in the rotation, apparently. He had a couple rough starts, but got better and in his last start against Texas was fantastic. With the exception of the one start in Baltimore where everything came undone in the second, the most notable accomplishment for him has been the way he's bent, but not broken, with men on base. Last season all of those men scored. This season they don't. Phil's growing up.
Joba Chamberlain: Seems to have figured out the first inning woes by throwing a simulated inning before the start of the game, however, he needs to work on efficiency. Not sure if Joba's last start was a result of his poor numbers against Texas or some leftover weakness from getting hit in the leg with a line drive; probably a combination of both. I am wholeheartedly against moving him to the bullpen since I think it would kill his arm, but he does need to become more efficient.
AJ Burnett: Had a couple tough luck outings with a loss against Halladay and then a no decision against Minnesota; gave up absolute bombs to Philadelphia, but yesterday, thank your deity(ies), was very good against the Rangers. 118 pitches in six innings is too many; six shutout innings a team will take every time.
Andy Pettitte: He's been Andy Pettitte-ish. He'll give up hits and occasional runs, but somehow, as if by magic, always keeps the team in the game. He's been perfectly cast as the team's fifth starter; not quite his role in Yankee teams of yester-year, but he's doing exactly as the Yankees needed him to do, and he's still historically a better second half pitcher.
Chien Ming Wang: Now pitching out of the bullpen despite not being a bullpen arm. The trouble is, if Hughes keeps pitching well Girardi will be in no hurry to remove him from the rotation. It's an odd problem to have: too much starting pitching and not enough bullpen.
The Offense
Let's see here—since the last off day, the Yankees have scored at least three runs every game but one—and that was Halladay's start. In their wins, the Yankees have scored five or more runs ten times.
Even while missing Nady and Posada, and for most intents and purposes, Swisher, the offense is working like a $200 million team.
Derek Jeter: Seems to have slowed his decline just enough. He's never hit for a whole ton of power, but seems much improved in that department over last season. He's still, perhaps, not entirely suited for the lead off role, but it's drastically reducing the team's GIDP that makes it all worthwhile.
Johnny Damon: Has cooled off a little bit, but since he had basically been carrying the team for a while now, he's allowed. The right porch at the Stadium suits him perfectly and has turned him into a legitimate power threat at home.
Mark Teixeira: There aren't really words to describe how awesome he's been since A-Rod has come back and, well, offered him protection in the lineup. He's got twelve home runs already in May and is now in the league lead in that department. We knew he'd heat up in May with the warmer weather—but I'm not sure anyone expected this.
Alex Rodriguez: Still has more home runs than singles and the scary thing (for other teams) is that his timing, while better, is still not all the way there. Now, if he had some serious protection in the line up—Matsui and Canó can be too streaky—there is no limit to the damage he could do.
Robinson Canó: Was insanely hot, then cooled off, and now is pretty warm again. He is night and day in comparison to his play last year, and the Yanks are probably pretty happy they got the "day" version this year.
Melky Cabrera: Already has three walk off hits this season. It's not just that he's taking better ABs (and he is), it's that he's making them count. The shoulder injury looked painful on TV, but if what we're hearing is right than the injury should not be too devastating. At the very least, nothing is broken or dislocated and small mercies though they be, they still count.
Nick Swisher: has cooled off something awful. He needs a day off (or three), but until Nady is back and with Melky hurt it won't happen anytime soon. He's still managed to keep a very good attitude about the whole thing, but you can see he's pressing. Every hitter slumps—it's not the slump that matters so much as whether or not you can get yourself out of it.
Hideki Matsui: Had also been slumping awful and then he hit two home runs last night. Maybe the change of scenery was what he needed; at any rate, he needs a few more games before we can call the slump over.
Brett Gardner: Seems to have his best games when coming off the bench for someone that's been injured or tossed. Melky's getting the better swings, but Gardner doesn't look as lost as he did earlier in the season. Plenty of players—i.e., Miguel Cairo—have fashioned lengthy careers off the bench.
Ramiro Peña: Also been slumping, but the difference is he was never supposed to hit in the first place. His defense makes up for it, though, so the Yankees will take it.
Francisco Cervelli: I thought this kid was a Mendoza line hitter at AA? He's still got virtually no power, but the fact that he's not an automatic out—and, in fact, has come up big in a few clutch situations—is not really going to upset anyone, either. He continues to do all the little things right and now there's debate if the Yankees should keep him or Molina on the roster when Molina comes back.
Kevin Cash: Has likely seen his last game action, which is okay, because he was pretty painful to watch with the bat.
Angel Berroa: Who?
Jorge Posada, José Molina and Xavier Nady have not played since the last off day.
The Bullpen
Oh, that bullpen. It's been better, but better does not necessarily mean good.
José Veras: I loved him last year, but I do not love him this year. I don't know where that control went, but it doesn't look like it's going to come back.
Phil Coke: He's been okay. If you can find it, his post-game comments after his first (and probably only) career save are well worth a listen. It's hard not to like a pitcher who is so candid with the media, but asking the eighth inning of him may be a little too much.
Alfredo Aceves: Alfredo Mendoza. Seriously, there's nothing else to say. Dude is great. Not perfect, but the best Mendoza-like guy we've hand in ages. If only Girardi would stop trying to proctor him…
Brett Tomko: Has been kind of what we expected. Okay in low leverage situations; hold your breath in a tie game.
Mariano Rivera: Between the walk offs and the blow outs he's not gotten a whole lot of pitching opportunities. Still, having seemed to have overcome his dead arm, Mo's the most reliable thing the Yankees have outside of, well anything. For what it's worth, it's Mo that's done and told AJ to "get the pie ready" during the walk offs, and Mo that sat as judge during the kangaroo court.
The Yankees are 3-3 in their last six but 12-4 in their last 16. The most impressive thing here is that they've followed each loss with a win, as if to say that they can't wait for their next nine game winning streak.