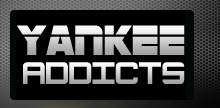 May 11, 2009 · Rebecca Glass · Jump to comments
Article Source: Bleacher Report - New York Yankees
Now that the season is over a month old, there are some judgments that can be made. Although it's too early to know for sure what will hold out and what won't, there are some general trends:
Whatever the team's problem, it's not the offense.
The starting pitching can show flashes of brilliance, but has mostly been pretty average.
The bullpen has two reliable pitchers and the rest are firestarters.
Let's take a more in-depth look, shall we?
The Starting Pitching


Joba strikes out 12. CC pitches a four-hit complete game. Yankee pitching of late has shown flashes of brilliance. Yet, for ever four hit complete game shutout, there's a pitcher that can't get out of the second inning.
The starting pitching was supposed to be the Yankees' strong suit, but it's been mediocre for the most part. While CC looks like all it took was a flip of the calendar page, others in the rotation look decidedly human.
CC Sabathia
Yankee fans hope the four-hit complete game shut out of the Orioles is a sign of better things to come. That stopper performance is what the Yankees paid to get. Don't pay too much attention to CC's record here; the bullpen has been more than responsible for keeping CC from some more wins.
AJ Burnett
Started off as the Yankees' stopper, but has faltered a bit since then. The match up on Tuesday against Halladay should be telling. His ERA is skewed because of the eight runs allowed in the one Boston start; other than that he's allowed, going backwards 3, 4, 3, 2 and 2—certainly enough to give his team a chance to win. The Yankees are 4-2 in his starts.
Andy Pettitte
The Yankees are 4-2 in his starts as well, but his ER total has gone up: 1, 2, 3, 4, 5 and 5. Not entirely surprisingly, the Yanks are 1-2 in his last three starts. Granted, Pettitte is supposed to be the fifth starter, so the Yanks aren't quite looking for utter domination here, but the rising ER totals are not a trend the Yankees would like to see continue.
Joba Chamberlain: Opponents hit .480 off of him in the first inning, but after that, they're lucky if they reach base. The Yanks are only 3-3 in his starts, but this may perhaps be more the fault of a lack of run support (and, uh, that bullpen) than it is Joba's–he has not allowed more than five runs in a game, and when he did, the Yankees won that game. In the future, he'll probably be the pitcher more like the pitcher that pitched innings two through six against Boston as opposed to the first inning.
Phil Hughes: Holy small sample size, Batman! Phil Hughes has looked progressively worse each start. It's only three starts, so you can't make much of it, but it's probably not much of a coincidence that Chien Ming Wang will make a rehab start for Scranton tomorrow.
Chien Ming Wang: Told you it was the foot.
The Starting Line Up
The offense has been working quite nicely here. They've been held to less than four runs no more than five times over the course of nearly thirty games and have not yet been shut out.
What's interesting here, though, is while guys like Derek Jeter and Mark Teixeira are struggling, others such as Johnny Damon and Melky Cabrera have picked up the slack.
Derek Jeter
Only hitting in the .270s, and this is a little concerning. His OBP is helped by his walks, but his OPS is nearly a hundred points lower than his career average. It's still early in the season, and Jeter struggled early last year, but it's getting to a point where Jeter's offense can no longer mask his not-very-good defense.
If this was anyone else, you'd probably see a team trying to trade him while he still has residual value, but this is Derek Jeter. And you don't trade Derek Jeter.
Johnny Damon
En Fuego. Not only does this guy have a hitting streak, but he has an extra base hit in seven straight games. Yesterday, it won the Yankees the game.
Yes, there's a caveat that it's a contract year and he's playing for a contract, but if it helps the Yankees win, how much of a caveat can it be? I'm not sure we'll see 40 home runs from him, but whatever he's eating for breakfast, it's working.
Mark Teixeira
Struggling as all struggling has ever struggled before. Hovering around the Mendoza line is not how he wanted to start out in pinstripes, but perhaps he's beginning to come out of it.
The double in the rain to tie the game against Tampa would have been a seminal moment had the Yankees found a way to win the game.
Alex Rodriguez
One pitch, one home run, and Alex Rodriguez has more home runs than David Ortiz, who did not miss the first 28 games of the season.
Alex only has one other hit and has swung at a bunch of pitches out of the strike zone, but no matter how much you rehab, there's nothing quite the same as facing ML starters who have already had a few weeks in real game situations to practice.
He may not run well, but he should hit just fine once he's had a few more games.
Hideki Matsui
Was the Yankees' hottest hitter while A-Rod was still rehabbing. He's cooled down some, but he no longer looks awkward and lost like he did at the beginning of the season.
Godzilla's always been fairly streaky; when he's right and protecting Teixeira and A-Rod, there should be some interesting offensive games.
Nick Swisher
Doesn't like hitting at the New Yankee Stadium. His numbers overall have come way down, more in line with his career numbers as opposed to deity-like. He still seems to work the count every at bat, and guess what?
On this team, working the count seems to be contangious. And as long as he keeps being a bon vivant, campaigns such as VoteSwisher.com will continue to have an actual shot at working.
Robinson Canó
Has cooled off after a torrid April. As per most of his career thus far, he's hitting much better on the road than at home, which may partly be why the Yankees don't seem to have much luck at the new Stadium.
Still, if your No. 7 hitter hits .300 or better for the most part of the season, you can't find too much to complain about.
Melky Cabrera
It's too early to call this a breakout season, but it seems to be how this is shaping up. Melky was given a second chance when Gardner couldn't, well, hack it, and he's taken every advantage.
It's a small sample size galore thing here, but if he keeps taking pitches like he's taking, the likelihood he'll regress will grow slimmer and slimmer.
Francisco Cervelli
He's not in there for his bat, and yet, if he doesn't beat out an infield hit yesterday, the Yankees don't win that game. Every time he's interviewed in the clubhouse, he is positively beaming. If only he hadn't missed so much of last season with that wrist injury…
José Molina
Has a grand slam. Which is cool. And a strained quad. Which is not.
Jorge Posada
Never injured before the big, bad contract of doom, and now injured twice in two years. At least this is his hamstring and not his shoulder, so he should not be gone for too long. When the Yanks get his bat back, with A-Rod, it's going to be one heck of a line up.
Brett Gardner
Seems to have gone MIA except for late inning defense. That's what happens when you are given a chance and you can't take advantage. It's also why spring training stats mean nothing.
Ramiro Peña
Was good enough as a fill in for A-Rod to still be on the ML roster. Didn't hit much but wasn't necessarily an automatic out, and played doable defense. Wouldn't be surprised to see him spell A-Rod or perhaps even Jeter every once in a while.
Angel Berroa
He's on the Yankees? Since when?
Xavier Nady
Will attempt some light throwing to see if he can start rehab or if he will need a second Tommy John surgery. The injury didn't seem like a big blow to the Yankees at the time, but depth is only nice when you don't have to use it.
Kevin Cash
Has yet to make appearance as a Yankee.
The Blow Bullpen
Somehow, someone in the bullpen thought it was a good idea to watch footage of the 2008 Mets and try to emulate them as best as possible. Mariano Rivera and Phil Coke decided that wasn't for them, but they haven't been spotless, either.
Mariano Rivera
Gave up back to back HRs for the first time in his career to Tampa Bay. He's not injured, apparently, since his command's okay, but his velocity's a bit down.
This is probably a repercussion of the shoulder surgery and he should be okay, but it doesn't help that he was, well, so darned good last year.
Phil Coke
The only other reliable reliever. He's not flashy and he struggled in the beginning of the year, but he has calmed down a lot since then and (generally) gets the job done. In the absence of Bruney, the 8th inning is his.
Jonathan Albaledejo
Occasionally pitches a bunch of scoreless innings, and occasionally gets tagged. Flip a coin; that's basically what it comes down to.
Edwar Ramirez
See above.
José Veras
Last year's seventh inning guy has utterly no command this year. Aside from one good performance against Oakland, has shown absolutley nothing to suggest he can get batters out. What's even more frustrating is that he's out of options, so the Yankees are basically stuck.
Dámaso Marte
Why did the Yanks wait so long before DLing him? Such things continue to blow my mind.
David Robertson
Good when throwing strikes. Doesn't always throw them, however.
Mark Melancon
Needs more time at AAA, believe it or not. Kid's still young and coming off of TJ surgery. He'll be fine, but just not yet. Right now, it's about building the confidence so he's not afraid to throw strikes.
Brett Tomko
Heard the debut didn't go so well, but was dealing with an awful migraine at the time so I missed it.
Alfredo Aceves
the Mexican Gangsta may yet save the bullpen. The reason he didn't pitch in Hughes' debacle was because the Yanks weren't sure if Joba could start. Since Joba could and did start, Aceves should be raring to go the next time a starter fails.
Bruney, Bruney, o where art thou Brian Bruney?