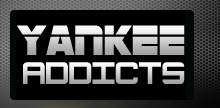 April 26, 2009 · Jordan Schwartz · Jump to comments
Article Source: Bleacher Report - New York Yankees
After a wasted 11-run explosion on Saturday, the Bombers' batters mustered just one run on seven hits in a 4-1 loss to the Red Sox Sunday night.
Justin Masterson deserves a lot of the credit, but New York's patchwork lineup is also to blame.
The Yankees are already hampered by injuries to a great hitter (Alex Rodriguez) and a good hitter (Xavier Nady), so when Johnny Damon (.311 average) showed up to Fenway park for the series finale with knee and shoulder pain, the Bombers knew they were in for a long night.
Joe Girardi chose to replace the second-leading hitter on the team with Brett Gardner (.220 average) at the top of the lineup. The center fielder has a ton of speed, but until he starts getting on base more often, he doesn't deserve to bat anywhere other than ninth.
The manager also needs to realize that the Nick Swisher honeymoon period is over. After hitting .458 in his first eight games, the outfielder has gone 7 for 39 to drop his average to .286. It's time to get Swisher out of the cleanup spot.
Looking for someone to replace him? How about Robinson Cano, who's hitting .373, or Hideki Matsui, who's 10 for his last 23? The Yankees need to start getting the hot batters bunched up together at the top of the lineup to avoid leaving men on base.
Here are the grades from New York's loss to Boston on Sunday.
Joe Girardi, Manager: (C+) Girardi should make a couple of adjustments to the lineup, but he did a few things Sunday that really impressed me. First of all, he had Angel Berroa bunt with runners on first and second and no one out in the third. The sacrifice was successful and led to the first run of the game when Gardner drove in Matsui on a sac fly. These are the little things the Yankees need to do to manufacture runs, especially with three of their best hitters out of the lineup.
The skipper also allowed Andy Pettitte to start the sixth inning even though he was already over 100 pitches. That's the type of thing that would never happen under Joe Torre. The move worked out as Pettitte completed the frame quickly, finishing the game with his highest pitch total since May 17 of last year (116), while also preventing the overworked bullpen from throwing another inning.
In fact, this is something Girardi has been doing a lot this year, letting CC Sabathia toss at least 108 pitches three times already. The problem isn't that the manager is pulling the starters too early, it's that these guys are walking far too many batters which is preventing them from going too deep into games.
Finally, I liked how Girardi allowed reliever Mark Melancon, who was making his Major League debut, to work out of a bases loaded, nobody out jam in the eighth. The manager needs to show this type of confidence in his bullpen guys and stop pulling them after one or two-thirds of an inning. You don't need to use every reliever every day.
Brett Gardner, CF: (C) Gardner was 0-3, but he did drive in the only run of the game for the Yankees with a sac fly in the fourth. Still, he has not done enough to deserve the lead-off role. Just take a look at the guy Boston has batting first, Jacoby Ellsbury. Here is a player who can significantly impact a game with his speed alone. Ellsbury stole two bases, including a dramatic theft of home in the fifth. Gardner has not reached that level yet, and should not be leading off.
Derek Jeter, SS: (C-) Back in his familiar No. 2 hole, the Captain went 1-4 with a strikeout.
Mark Teixeira, 1B: (F) Teixeira needs to start hitting. His 0-4 dropped his average to .218 and he also mishandled a throw in the dirt from Berroa.
Nick Swisher, LF: (F) Swisher went 0-4 with two K's. It's time to drop him in the order.
Robinson Cano, 2B: (A-) Cano was 2-4, but I didn't like how he failed to even get out of the batter's box on a ground ball to first that he thought might've been foul early in the game.
Jorge Posada, C: (D) Posada went 0-3 with a walk and retired only one of four base stealers.
Hideki Matsui, DH: (A) Godzilla has his stroke back. He went 2-4 with a run scored and needs to be moved up in the order.
Melky Cabrera, RF: (A-) Cabrera picked up two hits to get his average over .300, but he continues to swing at the first pitch and strand runners on base.
Angel Berroa, 3B: (D+) Berroa went 0-2 and committed a pair of errors in one inning, but any man who bunts is a friend of mine.
Johnny Damon, PH: (INC) So Damon wasn't healthy enough to start, but he was healthy enough to pinch hit in the ninth and nearly smack a two-run homer?
Andy Pettitte, SP: (C-) Pettitte really didn't pitch that poorly, but like the other guys in the rotation, he walked too many batters. The Yankees entered Sunday with 73 walks issued, which was third highest in the American League. Everyone needs to start throwing strikes.
Mark Melancon, RP: (B+) In his Major League debut, Melancon pitched a flawless seventh inning and then escaped a bases loaded, nobody out jam in the eighth. Maybe New York has found something here.
Yankees Overall Grade: (C-) The Yanks failed to really show up for the series finale and so they got swept by the Red Sox. This wasn't as painful of a loss as the first two, but it was a defeat just the same. New York needs to somehow put this weekend behind them and take two out of three at Detroit, behind some hopefully better starting pitching.
Jordan Schwartz is Bleacher Report's New York Yankees Community Leader. His book "Memoirs of the Unaccomplished Man" is available at amazon.com, barnesandnoble.com, and authorhouse.com.