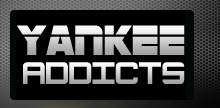 March 16, 2010 · Bronx Baseball Daily · Jump to comments
Article Source: Bleacher Report - New York Yankees
According to Mike Ashmore of the Hunterdon County Democrat , Yankees minor league catcher Kyle Anson has retired. Chad Jennings of the Journal News also passes along information that right handed pitcher JB Cox is also contemplating retirement.
Ashmore on Anson:
Anson had spent all four years of his career with the Yankees organization, and all of 2009 as a backstop for the Thunder. Set to turn 27-years-old on April 21st, he hit .227 with two home runs and 24 RBI in 57 games for Trenton last season.

Kyle was one of the more patient hitters on the team, and it shows…he'll finish with more walks (159) than strikeouts (147) for his career. He was, most likely, the best defensive catcher on the team last season as well.

While the reality of the situation is that Anson probably wasn't going anywhere in the organization, his spot in it seemed to be safe. He had been invited to big league spring training last season, and was fully expected to return to Double-A in 2010. According to one of his teammates from last season who I contacted in trying to confirm this, Anson was spotted as recently as pre-spring workouts, so this news may come as a surprise to some of the players as well.
Jennings on Cox:
Although it's been widely speculated that former second-round pick J.B. Cox has also retired, Mark Newman said the Yankees are "still waiting" for Cox to make a final decision about his playing future. Cox was a dominant closer at the University of Texas and put up terrific minor league numbers before injuries got in the way.
Thoughts on Anson and Cox

Anson is going to be 27 in a couple of weeks and seemed stuck at double-A Trenton where he wouldn't even be a starter because of prospect Austin Romine . Also, despite his patience at the plate he doesn't really hit enough to be valuable to other organizations.
So instead of becoming a minor league lifer he's decided to retire. It's sad to lose a quality player like him in the system, but he wasn't going to make it to the Bronx anyways.
As for Cox, this is the real sad story. Cox was once a dominant closer at the University of Texas and was considered a real prospect at one point. In 2006 he looked like he was close to making it to the Bronx as he had a 1.75 ERA over 77 innings in double-A Trenton, but Tommy John surgery and other minor injuries cost him all of 2007 and part of 2008.
Since then he never really recovered and he only managed to pitch 24.2 innings last season. His retirement isn't official yet, but even if he decides against it he seems like a long shot to ever be a big contributor at the major league level.
Most Commented Posts
Read more New York Yankees news on BleacherReport.com