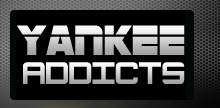 March 11, 2010 · Bronx Baseball Daily · Jump to comments
Article Source: Bleacher Report - New York Yankees
The rumors have swirled during the winter, but according to two major league sources, former Padres GM Kevin Towers will officially join the Yankees as a special assistant to Brian Cashman . Rejoice:
Towers will start with the Yankees next week in Tampa after being introduced on Tuesday. He'll scout amateurs and professionals. Also, he'll be a sounding board to Cashman, a longtime friend.The Yankees will pay him $50,000, according to a Padres official, and the Padres will pay Towers more than $1 million in remaining salary. (source)
Towers is a terrific addition to the Yankees front office. As one of the brightest minds in the game, the former GM will definitely help bring quality players to the Yankees. I'm excited to see how the club will handle his evaluations of the overcrowded pitching staff. In fact, I wonder if he secretly had anything to do with the Chan Ho Park signing.
Related Stories
Read more New York Yankees news on BleacherReport.com