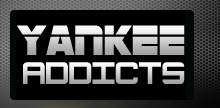 September 21, 2010 · Bronx Baseball Daily · Jump to comments
Article Source: Bleacher Report - New York Yankees
How many times have we heard that The Captain Derek Jeter was done this season? Probably only slightly more than we heard about the Curtis Granderson trade being a bust.
If you are not paying attention, it appears that both of those statements were premature.
A little over a month ago Granderson's numbers dropped to a season low as he was stuck in a slump that had seen him pick up only three hits in the first two weeks of August. So the Yankees benched him for a couple of days while he worked with the Yankees hitting coach Kevin Long on revamping his swing. Since he returned he's been on fire:
37 G, 35-for-128 (.273), 6 2B, 11 HR, .372 OBP, .578 SLG, .950 OPS.
Jeter had been having a slower season, but was still batting .302 on June 5, but hit .231 from June 6 until September 10, 83 games. Michael Kay would call that un-Jeterian.
In desperation Jeter, who is more of a see the ball, hit the ball kind of guy who doesn't work a lot on his hitting mechanics, met with Long to see what he was doing wrong. Like he did with Granderson, Long worked with Jeter to cut down on some of the movement in his swing and to shorten it a bit. It's early, but it seems to have paid off:
8 G, 11-for-33 (.333), 3 2B, .439 OBP, .424 SLG, .863 OPS.
If these two players can stay hot throughout the rest of the season and into the playoffs, the Yankees offense should have no problem scoring runs and backing up their pitching staff. If only Long was a doctor and could help Brett Gardner with his wrist and Nick Swisher with his knee the Yankees would be looking very good right now.
Read more New York Yankees news on BleacherReport.com