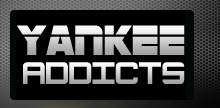 February 26, 2010 · Perry Arnold · Jump to comments
Article Source: Bleacher Report - New York Yankees
In 1927 the New York Yankees won the World Series.
Their lineup was called Murderers' Row, and featured the likes of Tony Lazzeri, Earle Combs, and Bob Meusel.
Of course, in 1927 Babe Ruth hit 60 home runs, setting a record that would last for 34 years.
Babe also hit 29 doubles, eight triples (believe it or not), and drove in 164 runs that year.
But this story is not about the '27 Yankees.
This story is not about Babe Ruth either.
This story is about Lou Gehrig.
Specifically, this story is about a glimpse of Lou Gehrig in 1927.
Gehrig came into his own in 1927.
Gehrig hit cleanup in the lineup that featured Babe Ruth in the third spot in the order.
You have to pause for just a minute and think about that. Ruth was third in the order, and Ruth hit 60 home runs.
Babe Ruth drove in 164 runs in 1927.
And Lou Gehrig had to follow that?
So how did Gehrig do in 1927?
Well, a hint might be that Babe Ruth was not the MVP in the American League in 1927.
Lou Gehrig was the MVP that year.
Hitting behind Ruth, Gehrig drove in 175 runs. That's 11 more than Babe drove in with Babe hitting 60 homers.
Gehrig had a total of 584 at-bats that year.
Sixty times there was nobody on base when he came up to hit because Babe had just cleared the bases.
Another 109 times that year Lou walked.
But Lou hit 47 home runs himself. He also hit 52 doubles and 18 triples. This for a man about whom we never think speed.
Gehrig had 447 total bases in 1927.
Gehrig hit .373 and had an OPS+ of 221.
TWO HUNDRED AND TWENTY-ONE. That was Lou's OPS+ in 1927.
Lou Gehrig lived in Babe Ruth's shadow for much of his career.
Babe left the Yankees after the 1934 season.
In 1936 there was a shy young kid who came to New York from about 3,000 miles away in San Francisco
This young kid had been a standout in the Pacific Coast League before he got to the bigs and the Big City.
That young kid was Joe DiMaggio, and immediately Lou Gehrig was being overshadowed again.
But take just one glimpse of the great Lou Gehrig.
Appreciate just a snapshot in time in 1927 and realize that Lou Gehrig did some things in baseball that almost defy belief.
Read more New York Yankees news on BleacherReport.com