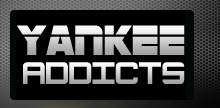 February 19, 2010 · Bronx Baseball Daily · Jump to comments
Article Source: Bleacher Report - New York Yankees
According to Jordan Bastian of MLB.com, the man who hit the final homer in original Yankee Stadium history, Jose Molina, has signed a one-year, $400,000 deal with the Blue Jays with a 2011 team option worth $1.2 million.
The Yankees acquired Molina back in 2007 when they traded minor leaguer Jeff Kennard for him near the July deadline.
Molina played well enough down the stretch in 2007—in 29 games he had a 101 OPS+—to earn himself a two-year, $4 million deal.
In 2008 Molina was relied upon much more than the Yankees anticipated when Jorge Posada dealt with shoulder injuries. Defensively he did everything the Yankees needed, but offensively there was a lot to be desired, as he managed to put up only a 51 OPS+ in 2008 and then again in 2009.
Despite the poor offense, the Yankees seemed pretty happy with what they got out of Molina and might have re-signed him for 2010 had it not been for the emergence of Francisco Cervelli. Cervelli is a young defensive specialist catcher who has come up through the Yankees system that has slightly more offensive potential.
It hasn't been a surprise that the Yankees have decided to go with Cervelli, but it does leave one question unanswered—who is going to catch A.J. Burnett in 2010? Last year Molina caught Burnett so regularly that he even replaced Posada during his starts in the World Series.
Will Posada go back to catching Burnett, or will Cervelli take over that duty? Your guess is as good as mine, so what do you think?
Related Stories
Read more New York Yankees news on BleacherReport.com