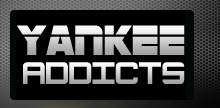 November 15, 2011 · Anthony Pucik · Jump to comments
Article Source: Bleacher Report - New York Yankees
Earlier this month, 40-year-old Jorge Posada announced that he would not re-sign with the Yankees next season, and would look for other teams that would give him options or simply just retire. Although it is rumored that some clubs have contacted Posada on playing for them next season, I think that he should just retire now.
The 40-year-old catcher now turned designated hitter came up with the New York Yankees in 1995, and has been in pinstripes ever since. He has been a part of five of the world record 27 championships the Yankees hold, and he was behind the plate for nearly every one.
Posada was never known for his amazing defensive abilities as a catcher, but he certainly had power. Over his career, Posada had 275 home runs and 1,065 runs batted in posting a career average of .273.
In 2007 Posada had arguably his best year with the New York Yankees, notching 20 home runs, 90 runs batted in and an impressive .338 batting average (the highest ever in his career). After that however, age and injuries got the better of him.
Posada only played 51 games with the Yankees in 2008 due to a season-ending shoulder surgery. When he returned, while his power numbers will still up, his batting average dropped greatly from the .338 in 2007, to .235 this year (his lowest batting average ever in his career).
Old age also forced Posada to leave the position that he had played for so long with the Yankees: catcher. After 2010, Posada's age, injuries and wearing knees would not be able to withstand an entire season behind the plate catching, so the Yankees decided to move him to designated hitter and play the occasional first base while they acquired Russell Martin to catch full time.
After a year of on and off benching and one of the worst power years in his career (14 homeruns and 44 runs batted in), Posada decided that he would not join the Yankees next year thinking there might be a team out there that needs a catcher and he could fill that role. I personally feel that Posada should not exercise his other options, if there are any on the table, and retire from baseball.
Catchers cannot stay in the game very long because their legs give out and make them run slower and unable to fill the role of catcher. Posada, being 40 years old plus all of the injuries he has had in his career, cannot possibly catch as well as he used to, and should not test himself only to end up being hurt for the rest of his life.
Another reason Posada should retire is because his numbers might have dropped, but they were respectable. It is no secret that we are looking at the tail end of an amazing career, but Posada has to know when enough is enough.
After 2007, Posada continuously decayed in front of us. Whether that was due to his 2008 shoulder injury or simply just his age, he is unable to perform the way he used to and it would be a shame to see him go out on a low rather than retiring with a decent year under his belt.
Lastly, and this is the most important and personal reason that Jorge Posada should retire is because he cannot be on another team other than the New York Yankees. Posada has been with the Yankees since the glory days in the 90s, he was part of the illustrious "Core 4" of him, Andy Pettitte, Derek Jeter and Mariano Rivera, the only remaining players from those years.
I just simply cannot wrap my head around Posada putting on a baseball jersey and it not being pinstriped or Yankee away grey. He has had such a memorable career with the Yankees and is beloved by all of the fans, and his last game of baseball should be with the New York Yankees, no one else.
Posada is my favorite player in all of baseball. Being a Yankee fan for so long as well as a catcher, I always looked up to him and wanted to play like him.
Posada is a prime example of a solid player with high class who played the game as it should be played. I respect Posada's decision when he makes it, but whether he ends up on another team or retires, to me, he will always only be known as a Yankee.
Read more New York Yankees news on BleacherReport.com